PainRelief.com Interview with:
Dr. Sean McMillan DO
Chief of Orthopedics and Director of Orthopedic Sports Medicine
Lourdes Medical Center of Burlington County, Burlington, NJ
Assistant Professor of Orthopedic Surgery at Rowan University –
School of Osteopathic Medicine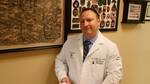 Dr. McMillan discusses the iovera° system which is used to provide pain relief from knee osteoarthritis, using extreme cold therapy.

PainRelief.com: What is the background for this procedure?
Response: I see many patients dealing with osteoarthritis (OA) pain, many of whom need total knee replacements. In fact, OA is the most common joint disorder in the United States and one of the primary reasons people seek knee replacement surgery. iovera° is a non-opioid, nonpharmacologic treatment that can alleviate knee pain by delivering extreme cold therapy (cryoanalgesia) to a targeted nerve. The iovera° treatment uses the body's natural response to cold to treat nerves and immediately reduce pain for patients dealing with OA and/or surgical pain from knee replacement procedures. One treatment with the iovera° system can provide pain relief for up to 90 days.
Unaddressed knee pain can have many consequences such as increased discomfort, reduced mobility, and irreversible damage. This non-opioid treatment helps to stave off pain both prior to surgery and for postsurgical pain when surgery becomes necessary, making for a smoother recovery process with limited opioid use.