PainRelief.com: What are the main findings?
Response: This is a double-blind, randomized and controlled trial focused on knee osteoarthritis. Knee osteoarthritis is the most common type of osteoarthritis and has negatively impacted many lives, especially in the elderly population. Its incidence is also projected to increase as the population ages followed with huge medical expenditure.

In this study, eighty-four participants with knee osteoarthritis were separated into three parallel groups; group A received ultrasound-guided dry needling, group B received dry needling without ultrasound guidance, and group C did not receive any type of dry needling.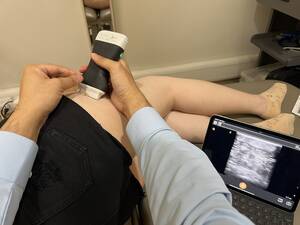 Our result showed the group A achieved significant improvement in pain and quality of life after four weekly of treatments of ultrasound-guided dry needling, taken at 4 and 8 weeks follow up. This significancy also reflected in the between the group comparison, with significant improvement in pain in group A compared to those in group B and C.
PainRelief.com: What should readers take away from your report?
Response: This study used a valid, robust study design, specifically a double-blinded randomized controlled trial, to evaluate the effectiveness of ultrasound guided dry needling. Significant short-term beneficial effects on pain relief were observed in patients with knee osteoarthritis. Traditionally, the selection of puncture site has been determined by the patients' symptoms or the presence of myofascial trigger points, hard and well-defined palpable nodules discovered during physical examination. Without the guidance from ultrasound imaging, the operating physiotherapist is unable to visualize the anatomical structure that is being targeted. Consequently, the advancement of needles maybe misguided. Dry needling with ultrasound guidance provides an initial awareness of an anatomical abnormality. As a result, it can accurately guide the operating physiotherapist to select the abnormal sites presented in the sonographic image in addition to the patient's symptoms and physical examination.
The effectiveness of dry needling can be improved through ultrasound-guided needle advancement that can more accurately targets anatomical tissue than traditional dry needling. The findings from this study provide scientific evidence for physiotherapist to apply ultrasound-guided dry needling to treat patients with knee osteoarthritis. We therefore highly recommend implementing this method into clinical practice.
PainRelief.com: What recommendations do you have for future research as a result of this study?
Response: We definitely recommend future research to use larger sample sizes with longer follow up. We are proceeding on evaluating the effectiveness of ultrasound guided dry needling on other musculoskeletal conditions to further validate this method. We will be delighted to share the results from our upcoming studies.
PainRelief.com: Is there anything else you would like to add?
Response: I would like to express my appreciation to Ms. Kara Reeves and Ms. Charis Pang for their sincere help and contribution in the research. There is no conflict of interest to be disclosed.
Citation:
Citation: Pang JCY, Fu ASN, Lam SKH, Peng B, Fu ACL (2022) Ultrasound-guided dry needling versus traditional dry needling for patients with knee osteoarthritis: A double-blind randomized controlled trial. PLoS ONE 17(9): e0274990. https://doi.org/10.1371/journal.pone.0274990
The information on PainRelief.com is provided for educational purposes only, and is in no way intended to diagnose, cure, or treat any medical or other condition. Always seek the advice of your physician or other qualified health and ask your doctor any questions you may have regarding a medical condition. In addition to all other limitations and disclaimers in this agreement, service provider and its third party providers disclaim any liability or loss in connection with the content provided on this website.
Last Updated on November 26, 2022 by PainRelief.com