PainRelief.com Interview with:
Kylie Isenburg
Athinoula A. Martinos Center for Biomedical Imaging
Massachusetts General Hospital, Boston, MA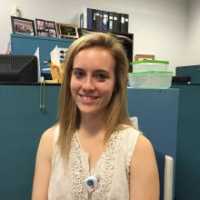 PainRelief.com: What is the background for this study? What are the main findings?
Response: Chronic low back pain (cLBP) is the leading cause for disability worldwide, with a lack of efficacious non-pharmacological treatments. Back pain doesn't just effect the back. Recent investigations using brain imaging have shown changes in brain structure and function in cLBP patients. Therefore, there is a growing interest in how different non-pharmacological therapies might impact cLBP by studying alterations in brain function that follow such therapies.

For our project, we assessed resting brain connectivity for a specific set of regions known as the Salience Network, a network involved in detection of salient information that arises from continuous sensory input. We assessed Salience network connectivity pre- and post- a single session of Manual Therapy (MT), a chiropractic manipulation technique used to treat a range of musculoskeletal disorders. We found that manual therapy reduced clinical low back pain intensity after a single-session. Additionally, assessment of two different grades of MT; Spinal Manipulation and Spinal Mobilization, suggested that Manipulation increases connectivity of the Salience Network to the Primary Motor Cortex and the Thalamus. Furthermore, the reduction in low back pain post-MT was associated with increased Salience connectivity to the lateral Prefrontal Cortex. These findings suggest modulation of sensorimotor, affective, and cognitive regions of the brain via Manual Therapy may play an important role in reducing Chronic low back pain.
PainRelief.com: What should readers take away from your report?
Response: Our report suggests that non-pharmacological therapies, specifically Manual Therapy, can be successful in reducing chronic low back pain intensity. It also suggests that brain changes following Manual Therapy are important, and specifically that changes in Salience network connectivity to brain regions important for processing sensory, affective, and cognitive information might underly this reduction in low back pain.

Altogether this work promotes increased investigation into brain-based mechanisms by which Manual Therapy can reduce chronic low back pain.
PainRelief.com: What recommendations do you have for future research as a result of this work?
Response: Following this study, we have a better idea of what a single manual therapy session can accomplish, but assessment of the long-term effects of a series of MT sessions will be useful in allowing for a better understanding of its efficacy in treating low back pain. Additionally, clinical trials assessing manual therapy against other treatment modalities can allow for direct comparisons against the current standard of care approaches.
Citation:
Kylie Isenburg, Ishtiaq Mawla, Marco L. Loggia, Dan-Mikael Ellingsen, Ekaterina Protsenko, Matthew H. Kowalski, David Swensen, Deanna O'Dwyer-Swensen, Robert R. Edwards, Vitaly Napadow, Norman Kettner,
Increased salience network connectivity following manual therapy is associated with reduced pain in chronic low back pain patients,
The Journal of Pain, 202
The information on PainRelief.com is provided for educational purposes only, and is in no way intended to diagnose, cure, or treat any medical or other condition. Always seek the advice of your physician or other qualified health and ask your doctor any questions you may have regarding a medical condition. In addition to all other limitations and disclaimers in this agreement, service provider and its third party providers disclaim any liability or loss in connection with the content provided on this website.