PainRelief.com Interview with:
Patience Moyo, Ph.D
Assistant Professor of Health Services, Policy and Practice
Center for Gerontology and Healthcare Research
Department of Health Services, Policy, and Practice
Brown University School of Public Health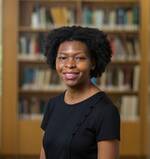 PainRelief.com: What is the background for this study?
Response: Clinical practice guidelines recommend nonpharmacologic treatments as first-line therapies for managing chronic pain. However, little is known about the use of guideline-recommended pain therapies and whether use varies in demographic subgroups. Individuals with co-occurring chronic pain and opioid use disorder deserve particular consideration because of their increased risk of harm from opioids and other pharmacologic therapies combined with their susceptibility to social and structural barriers to accessing health care.

We sought to understand whether the well-established racial and ethnic inequities in pain management extend to individuals with opioid use disorder and to nonpharmacologic pain treatments, specifically physical therapy and chiropractic care.
Continue reading