PainRelief.com Interview with:
Zhishun Liu, MD, PhD
Guang'anmen Hospital
China Academy of Chinese Medical Sciences
Beijing, China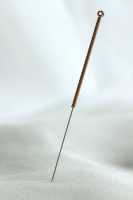 PainRelief.com: What is the background for this study? What are the main findings?
Response: Pharmacologic therapy has so far failed to reveal universal benefits in patients with chronic prostatitis/chronic pelvic pain syndrome (CP/CPPS); the evidence for acupuncture is limited, although it is also recommended in current guidelines.
Continue reading