PainRelief.com Interview with:
Felix M. Gonzalez, M.D.
Radiology Department at Emory University School of Medicine
Atlanta, Georgia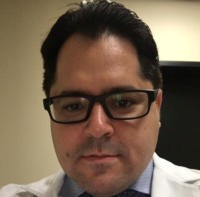 PainRelief.com: What is the background for this study? What are the main findings?
Response: Arthritis afflicts 30 million Americans yearly with the most common form being degenerative arthritis. The main joints affected are the knee, hip and shoulder joints.  
Osteoarthritis is exceedingly common, affecting more than 32.5 million Americans, according to the U.S. Centers for Disease Control and Prevention. The condition arises when the cartilage cushioning the joint breaks down over time, leading to pain, stiffness and decreased range of motion. People with osteoarthritis often take over-the-counter painkillers, such as ibuprofen (Advil, Motrin) and naproxen (Aleve). But besides being only moderately effective, the drugs are not without risks: Prolonged use is linked to increased risks of heart disease and kidney damage. Corticosteroid injections, which reduce inflammation, are the next option. But their effectiveness wanes over time and there are long-term safety issues, including a risk of cartilage damage.  
Gonzalez and his colleagues treated 23 patients whose hip or shoulder pain had become so bad that anti-inflammatory painkillers and cortisone injections — two standard treatments — were no longer helping.
Before undergoing ablation, and again three months later, patients answered standard questionnaires gauging their pain and daily function.
In the end, the study found, patients with shoulder arthritis reported an 85% drop in their pain ratings, on average. Among hip arthritis patients, pain declined by an average of 70%. 
Continue reading