PainRelief.com Interview with:
Joerg Steier PhD
Professor of Respiratory and Sleep Medicine
Guy's & St. Thomas NHS Foundation Trust
King's College London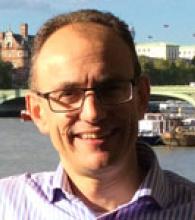 PainRelief.com: What is the background for this study? Where is the TENS unit applied?
Response: Patients with obstructive sleep apnoea hold their breath at night, which fragments their sleep and leads to daytime symptoms like excessive daytime sleepiness. Keeping the tone of the neuromuscular structures, particularly the hypoglossal nerve and the genioglossus muscle, elevated at night using electrical current has become an established treatment over the last decade.

Hypoglossal nerve stimulation, however, is using an implantable device, is costly, and requires surgical intervention. The novelty in the current study is that using a transcutaneous electrical neurostimulator (TENS) that is placed underneath the chin in the submental area can achieve significant improvements sleep apnoea severity and associated symptoms as well.
Continue reading