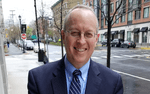 PainRelief.com Interview with:
Joel M. Trugman, MD
Associate Vice President
Neuroscience Development
AbbVie
PainRelief.com: What is the background for this study? What are the main findings?
Response: Migraine is a disabling chronic disease characterized by recurrent headache attacks and associated symptoms, including nausea, phonophobia, or sensitivity to sound, and photophobia, or sensitivity to light.
The ADVANCE clinical trial is a phase 3, randomized, double-blind, placebo-controlled trial and examined the safety and efficacy of atogepant, an oral, small-molecule calcitonin gene-related peptide receptor antagonist in patients with episodic migraine. The primary efficacy endpoint was the change from baseline in mean monthly migraine days (MMD) across the 12-week treatment period. This analysis that was recently published examined the efficacy of atogepant using 4 levels of mean monthly migraine day (MMD) responder rates. 

This analysis found that all doses of atogepant significantly increased the proportion of participants who achieved a ≥25%, ≥50%, ≥75% and 100% reduction in mean monthly migraine days over 12 weeks of treatment.