PainRelief.com Interview with:
Henry Xiang MD MMBA
Professor of Medicine and
Director of Center for Pediatric Trauma Research
Nationwide Children's Hospital
Professor of Pediatrics
The Ohio State University College of Medicine.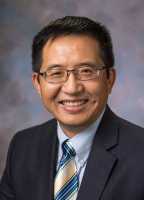 PainRelief.com:  What is the background for this study? 
Response: The rationale for the study is that burn dressing changes are very painful, and physicians/nurses sometimes must prescribe high dose of opioid pain medications to manage the pain. Because of the repeated painful dressing changes, a lot of children have anxiety about the upcoming burn dressings change.
PainRelief.com:  What are the main findings?
Response: Our main findings are:
1) Smartphone-based VR games could be an effective pain management tool for pediatric burn patients;
2) Actively playing the virtual reality games is more effective in managing the pain than just watching the same VR game.
Continue reading