PainRelief.com Interview with:
Henry Xiang MD MMBA
Professor of Medicine and
Director of Center for Pediatric Trauma Research
Nationwide Children's Hospital
Professor of Pediatrics
The Ohio State University College of Medicine.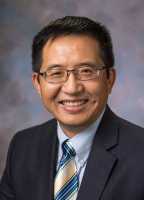 PainRelief.com:  What is the background for this study? 
Response: The rationale for the study is that burn dressing changes are very painful, and physicians/nurses sometimes must prescribe high dose of opioid pain medications to manage the pain. Because of the repeated painful dressing changes, a lot of children have anxiety about the upcoming burn dressings change.
PainRelief.com:  What are the main findings?
Response: Our main findings are:
1) Smartphone-based VR games could be an effective pain management tool for pediatric burn patients;
2) Actively playing the virtual reality games is more effective in managing the pain than just watching the same VR game.
PainRelief.com: What should readers take away from your report?
Response: Low cost smart-phone based virtually reality could be effective in managing pain among pediatric patients. VR could be used in companion with pain medications to manage pain during burn dressing changes.

This is particularly significant if future larger clinical trials could provide evidence that VR is so effective that high dose opioid pain medication is not needed or reduced. Opioid pain medication poses a risk of persistent use and addiction if used for a long time.
PainRelief.com: What recommendations do you have for future research as a result of this work?
Response: We have an ongoing project to test the efficacy of VR games for self pain management during home burn dressing changes by caregivers. Patients are often discharged from hospitals or burn clinics but daily burn dressing change is still needed. Another research direction is to test whether (high big) the VR games have opioid medication sparing effects, which means whether VR games could be effective so high dose opioid pain medication could be avoided or reduced.
We do not have any conflict of interest in conducting and publishing the study.
Citation:
Xiang H, Shen J, Wheeler KK, et al. Efficacy of Smartphone Active and Passive Virtual Reality Distraction vs Standard Care on Burn Pain Among Pediatric Patients: A Randomized Clinical Trial. JAMA Netw Open. 2021;4(6):e2112082. doi:10.1001/jamanetworkopen.2021.12082
The information on PainRelief.com is provided for educational purposes only, and is in no way intended to diagnose, cure, or treat any medical or other condition. Always seek the advice of your physician or other qualified health and ask your doctor any questions you may have regarding a medical condition. In addition to all other limitations and disclaimers in this agreement, service provider and its third party providers disclaim any liability or loss in connection with the content provided on this website.