PainRelief.com Interview with:
Maryann Mason, PhD
Department of Emergency Medicine
Northwestern University Feinberg School of Medicine
Buehler Center for Health Policy and Economics,
Northwestern University, Chicago, Illinois
PainRelief.com: What is the background for this study?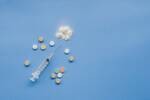 Response: This study came about because we were looking at data for Cook County, Illinois and saw an increase in older adult opioid overdose deaths.  That made us wonder if there was a national trend or the observation was limited to our local area.  We undertook the research to determine that and found that it is indeed a national phenomenon.
Continue reading