PainRelief.com Interview with:
Venetia Zachariou PhD
Edward Avedisian Professor
Chair of Pharmacology, Physiology & Biophysics
Boston University Chobanian & Avedisian School of Medicine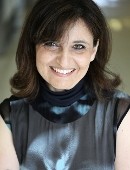 PainRelief.com: What is the background for this study?
Response: COVID-19, the disease resulting from SARS-CoV-2 infection, is associated with highly variable clinical outcomes that range from asymptomatic disease to death. For those with milder infections, COVID-19 can produce respiratory infection symptoms (cough, congestion, fever) as well as loss of the sense of smell.

A substantial number of actively infected patients suffering from both mild and severe infections experience sensory-related symptoms, such as headache, visceral pain, Guillain-Barre syndrome (GBS), nerve pain and inflammation. In most patients these symptoms subside after the infection ends, but, for other patients, they can persist.
Continue reading