PainRelief.com Interview with:
Venetia Zachariou PhD
Edward Avedisian Professor
Chair of Pharmacology, Physiology & Biophysics
Boston University Chobanian & Avedisian School of Medicine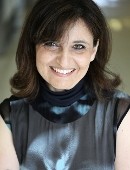 PainRelief.com: What is the background for this study?
Response: COVID-19, the disease resulting from SARS-CoV-2 infection, is associated with highly variable clinical outcomes that range from asymptomatic disease to death. For those with milder infections, COVID-19 can produce respiratory infection symptoms (cough, congestion, fever) as well as loss of the sense of smell.

A substantial number of actively infected patients suffering from both mild and severe infections experience sensory-related symptoms, such as headache, visceral pain, Guillain-Barre syndrome (GBS), nerve pain and inflammation. In most patients these symptoms subside after the infection ends, but, for other patients, they can persist.
PainRelief.com: What are the main findings?
Response: Using an experimental model of SARS-CoV-2 infection, we investigated the impact of SARS-CoV-2 on sensitivity to touch, both during active infection and well after the virus had cleared. We compared the effects of SARS-CoV-2 to those triggered by influenza A virus infection. Exposure to SARS-CoV-2, resulted in sensory hypersensitivity several weeks after the virus had cleared from the body. This effect was not observed with Influenza A infection. Furthermore, SARS-CoV-2 affected the expression of several dorsal root ganglia genes that might contribute to pain sensitivity and chronic pain. Using bioinformatic analysis, we tested several new treatment interventions.
PainRelief.com: What should readers take away from your report?
Response: We generated a preclinical model to screen for molecular and biochemical adaptations associated with SARS-CoV-2 infection. These findings will help identifying treatment strategies to prevent or ameliorate sensory abnormalities or pain associated with Long-Covid.
PainRelief.com: What recommendations do you have for future research as a result of this study?
Response: Information on molecular adaptations in dorsal root ganglia following acute SARS-CoV-2 infection or Long Covid states can be used by the scientific community for the development of new medications for the management of complex pain conditions.
PainRelief.com: Is there anything else you would like to add? Any disclosures?
Citation:
SARS-CoV-2 airway infection results in the development of somatosensory abnormalities in a hamster model.Sci. Signal.16,eade4984(2023).DOI:10.1126/scisignal.ade4984
Randal A. Serafini et al.
The information on PainRelief.com is provided for educational purposes only, and is in no way intended to diagnose, cure, or treat any medical or other condition. Always seek the advice of your physician or other qualified health and ask your doctor any questions you may have regarding a medical condition. In addition to all other limitations and disclaimers in this agreement, service provider and its third party providers disclaim any liability or loss in connection with the content provided on this website.
Last Updated on May 11, 2023 by PainRelief.com