PainRelief.com Interview with:
Zhishun Liu, MD, PhD
Guang'anmen Hospital
China Academy of Chinese Medical Sciences
Beijing, China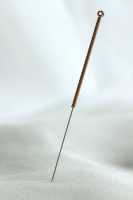 PainRelief.com: What is the background for this study? What are the main findings?
Response: Pharmacologic therapy has so far failed to reveal universal benefits in patients with chronic prostatitis/chronic pelvic pain syndrome (CP/CPPS); the evidence for acupuncture is limited, although it is also recommended in current guidelines.
PainRelief.com: What should readers take away from your report?
Response: Acupuncture is effective in treatment chronic prostatitis/chronic pelvic pain syndrome and the clinically meaningful efficacy could sustain as long as half a year after the treatment.
PainRelief.com: What recommendations do you have for future research as a result of this work?
Response: The underlying mechanisms is still unclear and requires further research.
In addition, future research required to enroll participants from other regions of the world, optimize the treatment protocol and limit the treatment sessions.
There are no financial conflicts of interest to disclose.
Citation:
Yuanjie Sun, Yan Liu, Baoyan Liu, et al. Efficacy of Acupuncture for Chronic Prostatitis/Chronic Pelvic Pain Syndrome: A Randomized Trial. Ann Intern Med. [Epub ahead of print 17 August 2021]. doi:10.7326/M21-1814
The information on PainRelief.com is provided for educational purposes only, and is in no way intended to diagnose, cure, or treat any medical or other condition. Always seek the advice of your physician or other qualified health and ask your doctor any questions you may have regarding a medical condition. In addition to all other limitations and disclaimers in this agreement, service provider and its third party providers disclaim any liability or loss in connection with the content provided on this website.