PainRelief.com Interview with:
John Traynor, PhD
Edward F Domino Research Professor
Professor and Associate Chair for Research
Department of Pharmacology, Medical School
Professor of Medicinal Chemistry, College of Pharmacy
University of Michigan, Ann Arbor MI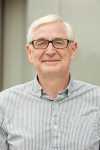 PainRelief.com: What is the background for this study? What are the main findings?
Response: Response: Morphine and related drugs acting at the mu-opioid receptor are the most effective treatment for moderate to severe pain, yet their use is limited by serious on-target side effects including respiratory depression, and physical and psychological dependence that has led to the opioid crisis.  Current opioid drugs are required because our own endogenous pain relieving chemicals, the enkephalins and endorphins opioid peptides, cannot efficiently relieve pain.  

We have discovered a class of drugs (positive allosteric modulators, PAMs) that bind to the mu-opioid receptor to enhance the activity of endogenous opioids.  These "enkephalin amplifiers" afford pain relief in mouse models without the need for morphine-like compounds and do so with a much reduced side-effect profile.
Continue reading