PainRelief.com Interview with:
Karin Westlund High, PhD
Professor and Vice-Chair for Research
Department of Anesthesiology & Critical Care Medicine
University of New Mexico Health Sciences Center
Albuquerque, NM 87106
PainRelief.com: What are the main findings?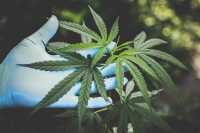 Response: Nearly 1 in 5 Americans recently reported that their level of pain interferes with their daily lives. Treatment options for persons with chronic pain are not optimal, particularly opioid therapies found to exacerbate pain or become ineffective over time in patients and in animal studies. While some have turned to marijuana to relieve pain where it has been legalized, benefits of the pain relieving cannabinols are not suitable for many given the psychotropic effects of its tetrahydrocannabinol (THC) content.
The Hemp Farming Act in 2019 effectively began legal cultivation in some states of a variety of the Cannabis plant—conventionally referred to as 'hemp'. The primary components of hemp are the pain relieving cannabidiol (CBD) chemicals, differing from the content in their federally illegal counterparts which contain levels over 0.3% of the psychoactive THC. In  fact, it is reported that the content of CBD was bred down while THC bred up in marijuana seized in California  between 2001-2008.
Continue reading