­PainRelief.com Interview with:
­ Shelly Levy-Tzedek, PhD
Head of the Cognition, Aging and Rehabilitation Lab
Faculty of Health Sciences, Dept. of Physical Therapy 
& The Zlotowski Center for Neuroscience
& ABC Robotics Initiative
The Ben Gurion University of the Negev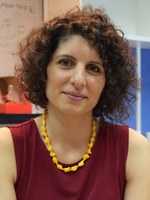 PainRelief.com: What is the background for this study? What are the main findings?
Response: It is known that close, effective human touch can help alleviate pain. We set out to test whether touch interaction with a social robot can also reduce the sensation of pain. We found that it does: young, healthy people who touched the robot during the application of painful stimuli reported feeling less pain than when it was in the room with them (with no direct contact), or when it was not present at all. They also reported increased levels of happiness. 
Continue reading