PainRelief.com Interview with:
Lingxiao Chen | MBBS, MMed, PhD Candidate
The University of Sydney
Institute of Bone and Joint Research | The Kolling Institute
Sydney Medical School | Faculty of Medicine and Health
Statistical Editor of BMJ Open Sport & Exercise Medicine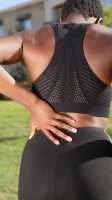 PainRelief.com: What is the background for this study?
Response: Current guidelines for treatment of low back pain (LBP) do not recommend routinely using diagnostic imaging, except when patients either present with severe, progressive neurologic deficits or with signs or symptoms indicative of a serious or specific underlying condition (eg, fracture or cancer). Nonetheless, diagnostic imaging is still widely used in clinical practice for low back pain. Previous studies, using mostly cross-sectional data, provide conflicting evidence of an association between lumbar spine radiographic changes and the severity of back pain–related disability. Such conflicting evidence may be associated with widely unnecessary diagnostic imaging of the lumbar spine.
Continue reading