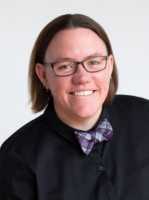 PainRelief.com Interview with:
Meghan Rabbitt Morean, Ph.D.
Assistant Professor of Psychology
Oberlin College
Adjunct Assistant Professor of Psychiatry
Department of Psychiatry 
Yale School of Medicine
New Haven, CT 04519
PainRelief.com:  What is the background for this study?
Response: Currently, medical marijuana is legal in 33 states and the District of Columbia and recreational marijuana is legal in 10 states and the District of Columbia (although it remains a Schedule I drug at the federal level).

Chronic pain is an approved condition for medical marijuana in all states in which medical marijuana is legal. However, there is concern that a sizeable percentage of medical marijuana patients also are using their medicine recreationally.

In the current study, we found that more than half (55.5%) of medical marijuana patients also reported using their medical marijuana for recreational purposes, which is similar to rates observed in a previous study.  
PainRelief.com: What are the main findings?
Response: We found that certain groups of patients were more likely to use medical marijuana for recreational reasons.
First, patients who lived in a state where recreational marijuana also was legal were more likely to use medical marijuana recreationally. Although it was not assessed directly in this study, this may simply be due to the fact that recreational use is legal or to a desire to work around more restrictive recreational marijuana laws like higher taxes, limits on the quantity of marijuana that can be purchased, or limits on THC levels in recreational products. 
In addition, women and patients who were using medical marijuana to treat a pain or mental health condition were more likely to report recreational use. This is consistent with previous studies showing that these groups of patients also are more likely to use other types of medications recreationally.
Finally, certain characteristics of medical marijuana products were associated with recreational use. Specifically, preferring to vape marijuana concentrates (e.g., hash oil, shatter), and seeking out other types of medical marijuana products that have high levels of THC (the cannabinoid that gets users high) were associated with recreational use. Of note, patients who used medical marijuana products with high levels of CBD (a medically therapeutic cannabinoid that does not produce a high) were less likely to report using their medical marijuana for recreational purposes. 
PainRelief.com: What should readers take away from your report?
Response: There is growing evidence that medical marijuana is helpful for treating the symptoms of a range of different pain conditions. However, patients and medical staff should be aware that many patients ultimately use medical marijuana for both medical and recreational reasons. Although recreationally using one's medical marijuana may have less harmful effects than misusing other commonly prescribed pain medications like opiates, it is important to remember that using medications for purposes other than intended, including recreational use, has risks. For example, in other research I have conducted, patients who were using their medical marijuana recreationally were more likely to report driving while high and neglecting responsibilities.
PainRelief.com: What recommendations do you have for future research as a result of this work?
Response: Moving forward, I am interested in understanding what comes first, medical marijuana use or recreational marijuana use. Specifically, it will be important to understand what percentage of patients begin using medical marijuana because they have prior experience using marijuana recreationally and feel comfortable with it. The opposite is also true; it will be critical to understand why and how patients' transition from using marijuana only for medical reasons to also using it recreationally.
I have no disclosures or conflicts of interest to report.
Citation:
Addictive Behaviors
Volume 93, June 2019, Pages 233-239
Prevalence and correlates of medical cannabis patients' use of cannabis for recreational purposes
Meghan E. Morean, Izzy R.Lederman
[last-modified]h
The information on PainRelief.com is provided for educational purposes only, and is in no way intended to diagnose, cure, or treat any medical or other condition. Always seek the advice of your physician or other qualified health and ask your doctor any questions you may have regarding a medical condition. In addition to all other limitations and disclaimers in this agreement, service provider and its third party providers disclaim any liability or loss in connection with the content provided on this website.