PainRelief.com Interview with:
Carsten Hjorthøj, senior Researcher
Copenhagen Research Center for Mental Health – CORE, Mental Health Center Copenhagen, Copenhagen University Hospital
University of Copenhagen, Department of Public Health
Section of Epidemiology, Copenhagen, Denmark.
PainRelief.com: What is the background for this study? What are the main findings?
Response: Denmark introduced a pilot program of medical cannabis in 2018. Medical cannabis, and cannabis-based medicine, has gained a lot of both attention and controversy as a possible way to treat pain disorders, but the evidence base is still sparse. The Danish nationwide unselected registers allow us to perform a high quality pharmacoepidemiologic study with propensity score matched controls.

The main findings are that medical cannabis and cannabis-based medicine did not reduce the use of opioids in pain patients, and might actually lead to an increase in use of opioids. However, patients with neuropathic pain disorders appeared to reduce their use of gabapentin, their use of overall medication (but not opioids!), and the number of days spent in hospital, compared with controls.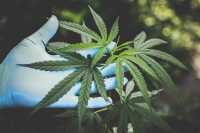 PainRelief.com: What should readers take away from your report?
Response: Well, our main findings, of course – that there might be a benefit from medical cannabis and cannabis-based medicine in patients with neuropathic pain, probably especially those treated with gabapentin. However, and importantly, our study does not indicate that medical cannabis or cannabis-based medicine will solve the opioid crisis for pain patients.
PainRelief.com: What recommendations do you have for future research as a result of this work?
Response: We need large, high quality randomized trials to be sure about this. Also, trials should focus both on pain-related outcomes (both VAS-scales and scales measuring the perceived impact of pain), and on measures such as medication use, which are often omitted from such trials.
We have no disclosures.
Citation:
Hjorthøj C, La Cour P, Nordentoft M, Posselt CM. Cannabis-based medicines and medical cannabis for patients with neuropathic pain and other pain disorders: Nationwide register-based pharmacoepidemiologic comparison with propensity score matched controls. Eur J Pain. 2021 Oct 8. doi: 10.1002/ejp.1874. Epub ahead of print. PMID: 34624164.
The information on PainRelief.com is provided for educational purposes only, and is in no way intended to diagnose, cure, or treat any medical or other condition. Always seek the advice of your physician or other qualified health and ask your doctor any questions you may have regarding a medical condition. In addition to all other limitations and disclaimers in this agreement, service provider and its third party providers disclaim any liability or loss in connection with the content provided on this website.
Last Updated on October 15, 2021 by PainRelief.com