PainRelief.com Interview with:
Jeungchan Lee, PhD
Department of Radiology
Athinoula A. Martinos Center for Biomedical Imaging
Massachusetts General Hospital
Harvard Medical School
Charlestown, MA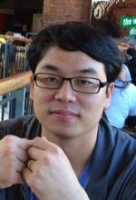 PainRelief.com: What is the background for this study?
Response: Fibromyalgia is a centralized chronic pain syndrome, characterized by multidimensional symptoms. The underlying mechanism, however, in the brain is not well understood. Plus, the application of neuro-metabolic imaging has been limited to a preselected single brain region, which has a potential bias in single region-preselection, and is time-consuming if data collection is needed from multiple brain regions.
Thus, we tried to understand its mechanism with a better spatial resolution and brain coverage using an advanced neuro-metabolic imaging technique (3D proton magnetic resonance spectroscopy, 1H-MRS) by linking metabolic levels to multidimensional clinical/behavioral variables in fibromyalgia patients.
PainRelief.com: What are the main findings?
Response: First, fibromyalgia patients (N=87) with moderate pain severity reported significantly higher pain catastrophizing scores and pain sensitivity compared to 33 healthy controls (N=33).
Second, metabolite data were collected from multiple brain regions simultaneously, which covered bilateral insular and cingulate cortices and thalami.
Third, significant associations between clinical/behavioral variables and metabolite levels in both sensory/nociception-processing and self-referential cognitive processing areas were found in fibromyalgia patients.
PainRelief.com: What should readers take away from your report?
Response: Our findings consistently identified the involvement of sensory/nociception-processing areas and highlight self-referential brain areas (such as the posterior cingulate cortex, which was not commonly targeted) for chronic pain pathology.
We also showed the utility of the 3D spectroscopic imaging technique in the assessment of molecular mechanisms underlying clinical/behavioral characteristics of fibromyalgia.
PainRelief.com: What recommendations do you have for future research as a result of this work?
Response: Our results lead us to future studies to further assess the stability of the imaging technique and generalizability of the findings in multiple pain conditions.
Citation:
Lee J, Andronesi OC, Torrado-Carvajal A, Ratai EM, Loggia ML, Weerasekera A, Berry MP, Ellingsen DM, Isaro L, Lazaridou A, Paschali M, Grahl A, Wasan AD, Edwards RR, Napadow V. 3D magnetic resonance spectroscopic imaging reveals links between brain metabolites and multidimensional pain features in fibromyalgia. Eur J Pain. 2021 Jun 8. doi: 10.1002/ejp.1820. Epub ahead of print. PMID: 34102707.
The information on PainRelief.com is provided for educational purposes only, and is in no way intended to diagnose, cure, or treat any medical or other condition. Always seek the advice of your physician or other qualified health and ask your doctor any questions you may have regarding a medical condition. In addition to all other limitations and disclaimers in this agreement, service provider and its third party providers disclaim any liability or loss in connection with the content provided on this website.