PainRelief.com Interview with:
Daniel A Charen MD
Leni and Peter May Department of Orthopaedic Surgery
Icahn School of Medicine at Mount Sinai, New York
PainRelief.com: What is the background for this study?
Response: There is a well-established link between obesity and knee osteoarthritis, and recent research has implicated diabetes as a potential cause of cartilage degeneration. This study uses the National Health and Nutrition Examination Survey (NHANES) database to examine the association between knee pain and various metabolic factors.
PainRelief.com: What are the main findings?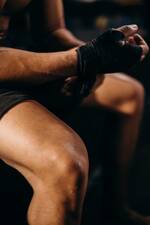 Response: The modifiable risk factors associated with knee pain were obesity, blood sugar level and current smokers. Additional analysis showed patients under 65 years old have a 5% increase in risk of any knee pain as their body mass index increases, but patients 65 years and older have a 10% increase in risk.
PainRelief.com: What should readers take away from your report?
Response: Weight loss, tight blood sugar control and smoking cessation are conservative interventions that may benefit patients with knee pain. Weight loss appears to be particularly beneficial in patients 65 and older.
PainRelief.com: Is there anything else you would like to add?
Response: Weight loss, tight blood sugar control and smoking cessation may be effective conservative treatment options for patients with knee pain. That being said, emphasis should still be placed on determining the etiology of the knee pain to guide management and have the greatest chance of treatment success.
Citation:
Charen, D.A., Solomon, D., Zubizarreta, N., Poeran, J. and Colvin, A.C. (2020), Examining the Association of Knee Pain with Modifiable Cardiometabolic Risk Factors. Arthritis Care Res. Accepted Author Manuscript. doi:10.1002/acr.24423
The information on PainRelief.com is provided for educational purposes only, and is in no way intended to diagnose, cure, or treat any medical or other condition. Always seek the advice of your physician or other qualified health and ask your doctor any questions you may have regarding a medical condition. In addition to all other limitations and disclaimers in this agreement, service provider and its third party providers disclaim any liability or loss in connection with the content provided on this website.