PainRelief.com Interview with:
Felix Gonzalez, M.D.
Assistant professor, Division of Musculoskeletal Imaging
Department of Radiology and Imaging Scienc
Emory University School of Medicine
Atlanta, Georgia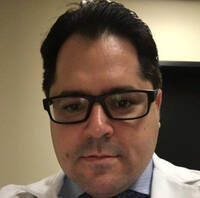 PainRelief.com: What is the background for this study? What are the main findings?
Response: Total knee arthroplasty is a common procedure performed worldwide for the treatment of symptomatic knee arthritis. Unfortunately, approximately 20% of those patients develop chronic pain after the surgical intervention in the setting of no complications such as infection or hardware loosening. The reason for this is not known at this point although theories exist.
The new study focused on 21 patients who were experiencing persistent chronic pain after total knee replacement, without underlying hardware complications. The patients had all failed conservative care. They filled out clinically validated questionnaires to assess pain severity, stiffness, functional activities of daily living and use of pain medication before and after the procedure. Follow-up outcome scores were collected up to one year after the C-RFA procedure.
In the end, the study found, patients with knee arthritis reported an 70% drop in their pain ratings approximately, on average.
Last Updated on December 2, 2021 by PainRelief.com