PainRelief.com Interview with:
Dr. Jeffrey I. Gold PhD
Director Emeritus of the Pediatric Pain Medicine Clinic
Children's Hospital Los Angeles and Investigator
The Saban Research Institute
Children's Hospital Los Angeles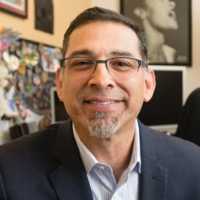 PainRelief.com: What is the background for this study How is the VR utilized?
Response: Virtual Reality or digital therapeutics can have a profound impact on mitigating pain, anxiety, and distress associated with routine painful medical procedures, such as blood draw and IV placement. 
PainRelief.com:  What are the main findings? Would you explain what is meant by "triangulation of data"?
Response: Virtual Reality significantly reduces pain and anxiety in children undergoing PIVC placement compared to standard of care in two pediatric medical settings (radiology and the infusion center). The triangulation of data refers to collecting data on the patient, his/her caregiver, and the healthcare provider to examine the impact of the intervention from three different perspectives.

The current study demonstrated that an effective intervention for the patient can have a positive impact (ripple effect) on the caregiver and the healthcare provider, creating a more relaxed, calm, and less distressing medical experience.
PainRelief.com: What should readers take away from your report?
Response: Healthcare can be innovative, creative, and focus on preventive care to reduce pain, anxiety, fear, and stress in patients, their caregivers, and improve short- and long-term health outcomes.
PainRelief.com: What recommendations do you have for future research as a result of this work?
Response: Clinical researchers and healthcare start-ups need to partner more frequently to focus on solutions for common pediatric problems that can be resolved through digital solutions.
PainRelief.com: Is there anything else you would like to add?
Response: Mitigating pain, anxiety, distress, and increasing patient/caregiver and healthcare satisfaction, can lead to better health outcomes, efficient and cost effective medical procedures, and reduced stress and early adverse childhood experiences (ACEs), which may lead to poor long-term health outcomes.
No significant disclosures.
Citation:
Gold JI, SooHoo M, Laikin AM, Lane AS, Klein MJ. Effect of an Immersive Virtual Reality Intervention on Pain and Anxiety Associated With Peripheral Intravenous Catheter Placement in the Pediatric Setting: A Randomized Clinical Trial. JAMA Netw Open. 2021;4(8):e2122569. doi:10.1001/jamanetworkopen.2021.22569
The information on PainRelief.com is provided for educational purposes only, and is in no way intended to diagnose, cure, or treat any medical or other condition. Always seek the advice of your physician or other qualified health and ask your doctor any questions you may have regarding a medical condition. In addition to all other limitations and disclaimers in this agreement, service provider and its third party providers disclaim any liability or loss in connection with the content provided on this website.