PainRelief.com Interview with:
Jennifer Grasch, MD
Fellow, Maternal-Fetal Medicine
Department of Obstetrics and Gynecology
The Ohio State University Wexner Medical Center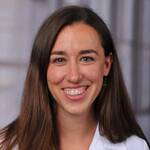 PainRelief.com: What is the background for this study? What are the main findings?
Response: Cesarean delivery is the most commonly performed major surgery in the US. Almost all patients who have a cesarean delivery take opioid pain medications for postoperative pain, but we know that opioids have many short- and long-term side effects.

We conducted a triple-blind sham-controlled randomized clinical trial testing the efficacy of adding transcutaneous treatment with a high-frequency (20,000 Hz) electrical stimulation device to a multimodal analgesic protocol after cesarean delivery. 
Participants who were randomly assigned to the functional device used 47% less opioid medication postoperatively in the hospital and were prescribed fewer opioids at discharge than those who received treatment with a sham device.  
PainRelief.com: What are the main findings?
Response: These findings suggest that use of the high frequency electrical stimulation device may be a helpful adjunct to decrease opioid use without compromising pain control after cesarean delivery.
PainRelief.com: What should readers take away from your report?
Response: Future studies focused on integrating the device into routine care and in other settings are needed to confirm the feasibility and generalizability of the findings.
PainRelief.com: What recommendations do you have for future research as a result of this study?
Response: There are 1.2 million cesarean deliveries performed annually in the US. The rate of development of chronic opioid dependence following surgery is 3% to 6%, so approximately 36,000 to 72,000 individuals in the US each year develop dependence after cesarean delivery. Effective opioid-sparing methods of postoperative pain control are sorely needed and should remain a public health priority.
Citation:
Grasch JL, Costantine MM, Mast DDD, et al. Noninvasive Bioelectronic Treatment of Postcesarean Pain: A Randomized Clinical Trial. JAMA Netw Open. 2023;6(10):e2338188. doi:10.1001/jamanetworkopen.2023.38188
https://jamanetwork.com/journals/jamanetworkopen/fullarticle/2810949
The information on PainRelief.com is provided for educational purposes only, and is in no way intended to diagnose, endorse, cure, or treat any medical or other condition. Always seek the advice of your physician or other qualified health and ask your doctor any questions you may have regarding a medical condition. In addition to all other limitations and disclaimers in this agreement, service provider and its third party providers disclaim any liability or loss in connection with the content provided on this website.
Last Updated on October 22, 2023 by PainRelief.com