PainRelief.com Interview with:
Peter Jüni, MD, FESC
Director, Applied Health Research Centre (AHRC)
Li Ka Shing Knowledge Institute of St. Michael's Hospital
Canada Research Chair in Clinical Epidemiology of Chronic Diseases
Professor, Department of Medicine &
Institute of Health Policy, Management and Evaluation
University of Toronto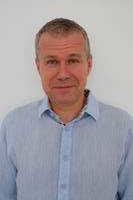 PainRelief.com: What is the background for this study?
Response: Biomechanics plays an important role in the development of osteoarthritis of the knee. We did a 24-week randomized clinical trial of a novel individualized biomechanical footwear system.

The shoes have 2 convex pods on the outsoles that can be individually calibrated and may alter the biomechanics of the lower limb. The shoes should be used daily for progressively increasing amounts of time.
PainRelief.com: What are the main findings?
Response: We included 220 patients with painful knee osteoarthritis and found that compared to control footwear, the individualized approach was associated with a significantly lower pain level in the affected knee after 24 weeks. There were no differences in reported adverse events between the biomechanical footwear system and the control footwear.
PainRelief.com: What should readers take away from your report?
Response: This is the first randomized clinical trial suggesting that a change of biomechanics of the lower limb will benefit people with knee osteoarthritis. We believe that this system has an edge over other biomechanical devices, such as wedges, because of individual calibration and because of the neuromuscular retraining associated with walking on the convex pods.
PainRelief.com: What recommendations do you have for future research as a result of this work?
Response: Additional randomized clinical trials are required to confirm our results independently, including long-term trials beyond 24 weeks to assess efficacy and safety.
No disclosures.
Citation:
Reichenbach S, Felson DT, Hincapié CA, et al. Effect of Biomechanical Footwear on Knee Pain in People With Knee Osteoarthritis: The BIOTOK Randomized Clinical Trial. JAMA. 2020;323(18):1802–1812. doi:10.1001/jama.2020.3565
[wysija_form id="3″]
[last-modified]
The information on PainRelief.com is provided for educational purposes only, and is in no way intended to diagnose, cure, or treat any medical or other condition. Always seek the advice of your physician or other qualified health and ask your doctor any questions you may have regarding a medical condition. In addition to all other limitations and disclaimers in this agreement, service provider and its third party providers disclaim any liability or loss in connection with the content provided on this website.
Last Updated on May 13, 2020 by PainRelief.com