PainRelief.com Interview with:
Maaz Siddiqui, BS
Department of Medical Education
Geisinger Commonwealth School of Medicine
Scranton, Pennsylvania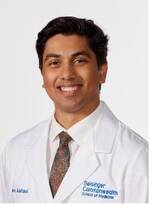 PainRelief.com: What is the background for this study?
Response: Over the last twenty years, the rise of deaths due to drug overdoses have been mainly and rightfully attributed to opioids. However, many investigations identify non-opioid drugs and drug classes that additionally contribute to deaths due to polysubstance overdoses. Through the Maine Diversion Alert Program (DAP) data, we examined drugs that often escape the attention of healthcare providers and directly or indirectly contribute to substance misuse, arrests, addiction, and deaths due to overdose.

The goal of this study was to utilize a novel dataset to uncover and identify the noncontrolled drugs that have shown potential to be misused.
PainRelief: What are the main findings?
Response: We compared arrests involving one-drug with arrests involving two or more drugs (1). As anticipated, we found that over one-half (53.5%) of the single drug arrest data and nearly two-fifths (39.6%) of the multiple drug arrests were comprised of possession of opioids. Overall, given the multiple drug arrest to single drug arrest ratio value (MSR), drugs that belonged to the miscellaneous (1.51) and sedative (1.09) drug categories were significantly over-represented, while stimulants (0.63), opioids (0.42), and hallucinogens (0.35) were significantly under-represented for drug arrests.

Within the specific drug categories, 25 drugs including many prescription substances were identified as having significant multiple-to-single drug arrest ratios. Specifically, the three drugs that had the highest, and significant MSR values were the muscle-relaxer carisoprodol (Soma), the antidepressant amitriptyline (Elavil), and the antipsychotic quetiapine (Seroquel). Carisoprodol is a Schedule IV substance while amitriptyline and quetiapine are unscheduled. There were also many other unscheduled substances like clonidine (Catapres), hydroxyzine (Atarax), trazodone (Trittico), and bupropion (Wellbutrin) which were over-represented in multiple-drug arrests.
PainRelief: What should readers take away from your report?
Response: Though many are aware of drugs such as opioids as the main culprits of the increase in deaths due to overdose, prescription drugs identified through our research, such as carisoprodol, amitriptyline, and quetiapine, often are underappreciated by medical providers for their misuse potential. These agents can be psychoactive, particularly when used at amounts which exceed doses approved for medical use .

The main takeaway of this study was that many drugs unknowingly contribute to our current drug epidemic, and it is important to raise awareness on these silent drugs.
PainRelief: Is there anything else you would like to add?
Response: Most research in this area uses prescription records or self-reported use patterns. Currently, there are not many pharmacoepidemiological research studies done on the data present on the Maine Diversion Alert Program. The results of this study may further our understanding of polysubstance misuse which contributes to our ongoing drug epidemic. Some nonscheduled substances may have greater misuse potential than commonly believed. We encourage and hope that others interested in pharmacoepidemiology similarly research the data present through the DAP or that similar databases become available in other states in order to further appreciate prescription drug diversion and misuse. Finally, a drug arrest should be recognized as potentially placing the arrestee at heightened risk for subsequent overdoses and could be conceptualized as an important event for early medical intervention.
Citations
1. Siddiqui MZ, Piserchio JP, Patel M, Park J, et al. Examination of multiple drug arrests reported to the Maine Diversion Alert Program. Forensic Science, Medicine and Pathology 2022, https://pubmed.ncbi.nlm.nih.gov/35094290/
2. Mann B. More than a million Americans have died from overdoses during the opioid epidemic. NPR, December 30, 2021, Accessed at: https://www.npr.org/2021/12/30/1069062738/more-than-a-million-americans-have-died-from-overdoses-during-the-opioid-epidemi?sc=18&f=1003
3. Piper BJ, Desrosiers CE, Fisher HC, McCall KL, Nichols SD. A new tool to tackle the opioid epidemic: Description, utility, and results from the Maine Diversion Alert Program. Pharmacotherapy 2017;37(7):791-798.
The information on PainRelief.com is provided for educational purposes only, and is in no way intended to diagnose, cure, or treat any medical or other condition. Always seek the advice of your physician or other qualified health and ask your doctor any questions you may have regarding a medical condition. In addition to all other limitations and disclaimers in this agreement, service provider and its third party providers disclaim any liability or loss in connection with the content provided on this website.