PainRelief.com Interview with:
Felix M. Gonzalez, M.D.
Radiology Department at Emory University School of Medicine
Atlanta, Georgia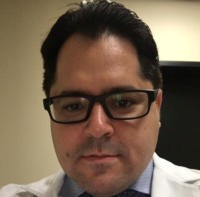 PainRelief.com: What is the background for this study? What are the main findings?
Response: Arthritis afflicts 30 million Americans yearly with the most common form being degenerative arthritis. The main joints affected are the knee, hip and shoulder joints.  
Osteoarthritis is exceedingly common, affecting more than 32.5 million Americans, according to the U.S. Centers for Disease Control and Prevention. The condition arises when the cartilage cushioning the joint breaks down over time, leading to pain, stiffness and decreased range of motion. People with osteoarthritis often take over-the-counter painkillers, such as ibuprofen (Advil, Motrin) and naproxen (Aleve). But besides being only moderately effective, the drugs are not without risks: Prolonged use is linked to increased risks of heart disease and kidney damage. Corticosteroid injections, which reduce inflammation, are the next option. But their effectiveness wanes over time and there are long-term safety issues, including a risk of cartilage damage.  
Gonzalez and his colleagues treated 23 patients whose hip or shoulder pain had become so bad that anti-inflammatory painkillers and cortisone injections — two standard treatments — were no longer helping.
Before undergoing ablation, and again three months later, patients answered standard questionnaires gauging their pain and daily function.
In the end, the study found, patients with shoulder arthritis reported an 85% drop in their pain ratings, on average. Among hip arthritis patients, pain declined by an average of 70%. 
PainRelief.com: What should readers take away from your report?
Response: The procedure is a form of radiofrequency ablation, where doctors use needles to send a low-grade electrical current to nerves that are transmitting pain signals from the arthritic joint to the brain. The current heats and damages the nerve fibers, rendering them unable to deliver those pain messages. In the United States, a number of ablation devices are cleared for treating low back pain and knee osteoarthritis.
At this point, the procedure is slowly becoming a more established treatment, said Dr. Felix Gonzalez, a radiologist at Emory University School of Medicine in Atlanta. Gonzalez called the results "promising" and said, in his experience, there have been no major complications from the procedure, such as bleeding or infections — though those are potential risks. And before the ablation is done, Gonzalez explained, patients go through what is basically a trial run. They are given an injection of numbing medication near the nerves believed to be generating the pain signals. If the pain abates, that means targeting the same nerves with ablation will likely work, too — longer term.
PainRelief.com: What recommendations do you have for future research as a result of this study?
Response: Larger scale studies need to be performed to decipher the full applications of this novel technique.
Citation: RSNA 20 Meeting Abstract
Safety and Efficacy of Image Guided Radiofrequency Ablation of The Articular Sensory Nerves for Pain Management in Patients with Moderate to Severe Osteoarthritis of the Shoulder and Hip: Initial Single Institutional Experience MK-1A-73 | Poster
The information on PainRelief.com is provided for educational purposes only, and is in no way intended to diagnose, cure, endorse or treat any medical or other condition. Always seek the advice of your physician or other qualified health and ask your doctor any questions you may have regarding a medical condition. In addition to all other limitations and disclaimers in this agreement, service provider and its third party providers disclaim any liability or loss in connection with the content provided on this website.