PainRelief.com Interview with:
Aliya Yakubova MD
OpenLab "Gene and Cell Technologies"
Institute of Fundamental Medicine, Kazan Federal University
Kazan, Russia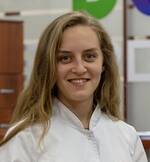 PainRelief.com: What is the background for this study?
Response: Migraine is a common debilitating primary headache disorder with strong socio-economic effects. According to some estimates, migraine is the most costly neurological disease: for example, in the European Union, it costs more than 27 billion euros a year.
In this regard, chronic type of migraine (with more than 15 attacks per month for more than three months) is of special interest. Because of high prevalence and the burden of attacks, it is of great importance to improve diagnostic tools for patient stratification and choosing appropriate treatment strategies of migraine. For this purpose we investigated contribution of transient receptor potential vanilloid type 1 (TRPV1) receptors to migraine chronification. It is known that these receptors are directly involved in the disease pathogenesis being associated with the release of the key migraine pain mediator, the calcitonin gene – related peptide (CGRP). Moreover, recent studies have suggested that the non-synonymous TRPV1 single-nucleotide polymorphism (SNP) 1911A> G (rs8065080), resulting to the substitution of amino acids isoleucine to valine in the protein structure of receptor (Ile585Val), influences functional activity of these receptors in neuropathic pain syndromes. All this together was the starting point of our research in collaboration with colleagues from the University of Eastern Finland.
PainRelief.com: What are the main findings?
Response: Our study for the first time has revealed the genotype difference of the chronic migraine (CM) from the episodic migraine (EM) and the healthy control groups. In patients with CM we found significant prevalence of the AA genotype revealing in its frequency doubling (68% versus 33% and 34% for EM and control groups respectively) and the complete absence of GG variant which, according to existing data, is associated with lower pain sensitivity in neuropathic pain syndromes.

Thus, the main finding is that TRPV1 1911A>G SNP is differently associated with chronic migraine and episodic migraine, what assumes different genetic predisposition to these migraine forms.
PainRelief.com: What should readers take away from your report?

Response: Potentially, detection of GG variant of TRPV1 1911A> G polymorphism in EM patient may indicate the lack of the migraine chronification possibility. Apparently, TRPV1 1911A> G SNP genotyping may be used as a clinical biomarker for predicting severity of migraine and for choosing a prophylactic treatment strategy. It may well be of use to patients with EM to check this SNP for further personalized migraine therapy.
PainRelief.com: What recommendations do you have for future research as a result of this work?
Response: To start the common use of TRPV1 genotyping in clinical practice, it would be a good idea both to confirm our conclusions in large genomic datasets and to check how it is happening with other ethnic groups. From fundamental point, in light of the involvement of the TRPV1 receptor in the release of the migraine pain mediator CGRP, it would be interesting to try to analyze the effect of the amino acid substitution Ile585Val on the functional parameters of the TRPV1 receptor and its interaction with molecular environment.
I have no disclosures or conflict of interests.
Citation:
Yakubova, A., Davidyuk, Y., Tohka, J. et al. Searching for Predictors of Migraine Chronification: a Pilot Study of 1911A>G Polymorphism of TRPV1 Gene in Episodic Versus Chronic Migraine. J Mol Neurosci (2020). https://doi.org/10.1007/s12031-020-01683-9
[last-modified]
The information on PainRelief.com is provided for educational purposes only, and is in no way intended to diagnose, cure, or treat any medical or other condition. Always seek the advice of your physician or other qualified health and ask your doctor any questions you may have regarding a medical condition. In addition to all other limitations and disclaimers in this agreement, service provider and its third party providers disclaim any liability or loss in connection with the content provided on this website.