PainRelief.com Interview with:
Giovanni Barassi PhD
Center for Physiotherapy, Rehabilitation and Reeducation
Center of Sports Medicine
"G.d'Annnunzio" University
Chieti, Italy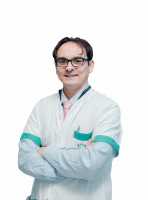 PainRelief.com: What is the background for this study?
Response: Our research started with the observations made during standard clinical practice concerning the inefficiency of standard physiotherapeutic procedures used for pain relief in chronic nonspecific low back pain, a scourge of modern times, particularly in industrialized countries. Therefore, the need has arisen to search for new approaches in the evaluation and treatment of musculoskeletal problems.
Chronic low back pain is clinically manifest as the pain between rib margins and folds of the inferior gluteus muscle. It usually results from an incorrect lifestyle, typical of modern society having too little physical activity, too much psycho-physical stress, and poor management of body weight. On the background of osteopathic medicine, we developed a concept of the dysfunctional flow of body fluids as a plausible underlier of low back pain, referring by and large to spine bony structures.
It has been shown that alterations in afferent activity coming from visceral, structural, and emotional nociception converge in the same metamers of the spinal cord, resulting in information noise and jam. The final motor output of the reflex arc encompasses somatic, myofascial, and connective tissue responses, with the inevitably added influence of the autonomic nervous system. There also are studies demonstrating the importance of interpreting myofascial dysfunction, not as an isolated local phenomenon but rather as an expression of the central nervous activity. Therefore, a concept has been shaped of somatic and myofascial dysfunction, currently gaining increasing recognition among physicians, osteopaths, and physiotherapists, the professionals dealing with tissue and joint manipulation. The practical crux of the issue is the identification of the "major dysfunction" site, expressing the specific spinal information jam.
The expert therapist, using specific techniques and evaluation tests, may identify the "key trigger point", corresponding to the maximum functional spinal irritation causing the formation of other satellite trigger points in muscles, responsible for symptoms of myofascial and somatic dysfunction. The difficulty lies in the objective identification of the key trigger point(s) and "manipulable dysfunction", to decongest suffering spinal cord areas to improve the condition.
PainRelief.com: What are the main findings?
Response: We worked out a new approach in the assessment and treatment of chronic non-specific low back pain. The approach consists of detection of changes in skin impedance at the dermatomal level using an Electro-Neuro-Feedback (ENF) instrument, targeting dysfunctional muscle key trigger points, not necessarily located in the symptomatic lumbar tract, whose stimulation, carried out manually or through the same device leads to the alleviation of pain.
Therefore, the main findings of our work are that stimulation of key trigger points, evaluated by measuring the skin impedance of different body muscle points, even distant from the painful lumbar area, enables the effective pain-reducing feedback therapy of lumbar pain. Moreover, we compared the manual, carried out by an expert operator, and instrumental, creating a dermatomeric mapping of skin impedance, exploration and treatment of key trigger points reflecting somatic dysfunction. We found comparably high effectiveness of both methods, reaching almost 95% congruence, with clearly better comfort for both patient and therapist of the ENF instrument.
PainRelief.com: What should readers take away from your report?
Response: When one considers a remedy for musculoskeletal complaints, it should be borne in mind that a dysfunctional manifestation results from a combination of alterations that occur on structural, myofascial, and emotional levels. A physical reflection of a problem in a particular body area may depend on musculoskeletal dysfunction in an area distant from the site showing symptoms of pain or functional limitation. It is essential to perform a full somatic and psychological examination of the patient, including anamnesis, manual (subjective), and instrumental (objective) evaluations to identify the body points on which the physiotherapeutic treatment is to be focused to optimize outcomes.
We recommend physiotherapists to develop skills to detect myofascial dysfunctions and interpret their plausibly distant neural origin to advance therapeutic outcomes in rebalancing the body's homeostasis. We believe we have shown that the skin impedance measurement is a reliable substitute for manual examination, detection, and treatment of key trigger points in chronic low back pain. The method is patient-friendly and provides an objective assessment of dysfunction as well as reduces painful symptoms. This novel method is posed to streamline the rehabilitation process in patients chronically suffering from non-specific low back pain, reducing the recovery time, as well as socioeconomic and healthcare costs.
PainRelief.com: Is there anything else you would like to add?
Response: We would like to highlight the need for multidisciplinary teamwork in the field of medical rehabilitation. The close collaboration across various interrelated disciplines is fundamental for the development of new strategies, supported by advanced technologies, in the management of musculoskeletal pathologies whose frequency is sharply on the rise, particularly given aging societies worldwide. To this end, low back pain is a case in point with the lifetime prevalence of 60-70% in industrialized countries. A new physiotherapeutic approach of treating key myofascial trigger points in low back pain, which fits well into the bioprogressive holistic philosophy of rehabilitation, appears highly beneficial in reducing patients' disability in this overwhelming condition. The findings presented herein are of interest to medical rehabilitators, orthopedists, rheumatologists, and all allied professionals engaged in physiotherapy. The dissemination of knowledge on hardly controllable physical ailments is an inalienable part of advances in physiotherapeutic practice.
We would like to acknowledge the International Society of Formation (SIF) and the Medical Publishing House Editaliamedica for the engaging support provided to our research team, aimed at spreading this new therapeutic approach internationally.
Citation:
Barassi G, Pokorski M, Di Matteo C, Supplizi M, Prosperi L, Guglielmi V, Younes A, Della Rovere F, Di Iorio A. Manual Pressure Release and Low-Grade Electrical Peripheral Receptor Stimulation in Nonspecific Low Back Pain: A Randomized Controlled Trial. Adv Exp Med Biol. 2021 Jan 21. doi: 10.1007/5584_2020_605. Epub ahead of print. PMID: 33474700.
The information on PainRelief.com is provided for educational purposes only, and is in no way intended to diagnose, cure, or treat any medical or other condition. Always seek the advice of your physician or other qualified health and ask your doctor any questions you may have regarding a medical condition. In addition to all other limitations and disclaimers in this agreement, service provider and its third party providers disclaim any liability or loss in connection with the content provided on this website.
Last Updated on January 30, 2021 by PainRelief.com