PainRelief.com Interview with:
Imanuel Lerman MD MSc
Associate Professor 
Affiliate Electrical and Computer Engineering 
VA San Diego Healthcare System
Center for Stress and Mental Health
Center for Pain Medicine 
UC San Diego Health 
Qualcomm Institute 
California Institute for Telecommunications and Information Technology (Calit2)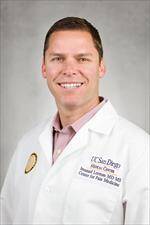 PainRelief.com: What is the background for this study? What are the main findings?
Response: Spinal Cord Stimulation (SCS) offers an implantable, non-pharmacologic treatment for patients with intractable chronic pain conditions.  There is extensive clinical literature that offers support for efficacy in chronic pain treatment for both Low frequency and High frequency based  spinal cord stimulation. While Low Frequency SCS has been heavily examined since its inception, High Frequency SCS paradigms have recently been clinically approved.

Emerging preclinical work also show sex may alter certain immunological pathways that contribute to chronic pain.  But to date few report have identified interactions between sex and SCS.  Therefore, we aimed to fill this knowledge gap through a single site (University of California San Diego), large (n=237) retrospective (2004–2020) analyses that compared SCS paradigm Low vs High Frequency SCS, efficacy (pain relief and opiate sparing effects) across sex.
Last Updated on May 1, 2022 by PainRelief.com