PainRelief.com Interview with:
Dr. Debashish Chowdhury
MBBS; DTCD; MD (Medicine); DM (Neurology); FIAN
Commonwealth Fellow in Stroke Medicine (Edinburg, UK)
Director – Professor and HOD
Department of Neurology, G B Pant Institute of Post Graduate Medical Education and Research,
New Delhi, India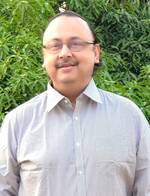 PainRelief.com: What is the background for this study?
Response: Chronic migraine is a highly disabling headache disorder affecting about 2% of the global population. Oral preventive treatment options for chronic migraine are limited. Only topiramate has good evidence of efficacy. Although propranolol has class I evidence of efficacy for the prevention of episodic migraine, it has not been tested for chronic migraine with a robust clinical trial. Hence, we conducted an RCT, called the TOP-PRO study assessing the efficacy and tolerability of propranolol against topiramate for the prevention of chronic migraine using a non-inferiority design.
PainRelief.com: What are the main findings?
Response: This was a 24 week double-blind trial with 4 weeks of screening. The doses of propranolol and topiramate were up-titrated to 160mg/day (from 40mg/day) and 100 mg/day (from 25mg/day) respectively in the initial 4 weeks and then maintained at the same dose throughout the course of the trial. Out of 175 randomized patients, 95 (topiramate 46 and propranolol 49) completed the trial. Patients receiving propranolol and topiramate showed a reduction of 7.3 and 5.3 mean monthly migraine days respectively compared to baseline at the end of 24 weeks. Non-inferiority analysis showed that propranolol was non-inferior (and non-superior) to topiramate. Both the drugs were well tolerated.
PainRelief.com: What should readers take away from your report?
Response: Propranolol (160 mg /day) is non-inferior to topiramate (100mg/day) for the prevention of chronic migraine in terms of efficacy and is well tolerated.
PainRelief.com: What recommendations do you have for future research as a result of this work?
Response: The study should be replicated with a higher number of patients (this study could not reach the planned sample size and had attrition due to the COVID-19 pandemic and lockdown)
PainRelief.com: Is there anything else you would like to add?
Response: This was an academic study without any financial support from the pharmaceutical industry (only trial drugs were provided free of cost by a pharmaceutical company). The investigators received no funding for the research, authorship, and/or publication.
Citation:
Chowdhury D, Bansal L, Duggal A, Datta D, Mundra A, Krishnan A, Koul A, Gupta A. TOP-PRO study: A randomized double-blind controlled trial of topiramate versus propranolol for prevention of chronic migraine. Cephalalgia. 2021 Sep 27:3331024211047454. doi: 10.1177/03331024211047454. Epub ahead of print. PMID: 34579560.
The information on PainRelief.com is provided for educational purposes only, and is in no way intended to diagnose, cure, or treat any medical or other condition. Always seek the advice of your physician or other qualified health and ask your doctor any questions you may have regarding a medical condition. In addition to all other limitations and disclaimers in this agreement, service provider and its third party providers disclaim any liability or loss in connection with the content provided on this website.