Sarah A. Eidbo, MS
MD Candidate
Geisinger Commonwealth School of Medicine Class of 2023
Scranton, Pennsylvania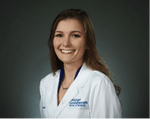 MedicalResearch.com: What is the background for this study?
Response: The United States is still witnessing the fallout from years of a devastating, multifaceted opioid crisis. However, in the wake of this situation, healthcare providers and systems across the nation have implemented many strategies to curb the damage where they can. This study1 used reports from the Drug Enforcement Administration (DEA)2 to quantify the changes and trends in prescription opioid distribution to hospitals in the U.S .over the past two decades.
MedicalResearch.com: What are the main findings?
Response: Between 2012 and 2019, opioid distribution to United States hospitals saw a 46.6% reduction, and half of the U.S. saw a 50% or greater decrease in hospital-distributed opioid weight per person in each state. Prescription opioid distribution to hospitals had been steadily climbing until 2012, which was identified as the peak year. After 2012, every opioid that the DEA records in their reports saw a steady decline – except for buprenorphine, a partial opioid agonist used to treat opioid addiction, which saw a 122.5% increase in hospital distribution.
We also discovered that there was a five-fold regional differences in hospital use of opioids when correcting for population. According to the most recent data, four states, Alaska, Montana, Colorado, and Wyoming were significantly elevated relative to the national average.
MedicalResearch.com: What should readers take away from your report?
Response: Although we are still struggling with the opioid crisis as a nation, readers can be assured that hospitals have drastically reduced their use of prescription opioids. This is a unique study in that we were able to use reported data from the DEA going back 20 years – from 2000 to 2019 – to observe trends in each individual prescription opioid that the DEA reports on, state by state, year by year. The opioid crisis is complicated, with a variety of causes and implications that must be considered. This is just a piece of a much larger puzzle; we still have a considerable amount of work to do. However, in order to better plan for the steps ahead, we must understand where we have already been. This massive study provides an easily accessible history of prescription opioid distribution to hospitals throughout the United States, which can hopefully be used to empirically inform future research, programs, and policies.
MedicalResearch.com: What recommendations do you have for future research as a result of this work?
Response: Hospital distribution is only one component, although a key one, of opioid distribution. To get the full picture, more research must be done on all the other outlets of prescription opioid distribution including ambulatory surgical centers and retail pharmacies. We know where all of these prescription opioids are sent, but do we fully understand what happens subsequently? The DEA only reports on prescription opioid distribution – not how much was used or left unused once the hospital purchased it. How much of these prescription opioids were wasted or lost due to misuse? With our study, we have been able to answer many questions. This investigation allowed us to understand a huge wealth of information but there is potential to dig much deeper into the pharmacoepidemiological patterns and these pronounced regional differences.
MedicalResearch.com: Is there anything else you would like to add?
Response: This study is an important piece of the opioid puzzle. This type of retrospective report using a comprehensive data source will allow the public to evaluate whether national and state policy changes have impacted opioid distribution. It is also important to keep in mind that many socioeconomic and demographic factors, including opioid supply which is carefully regulated by the DEA, can confound findings in studies like these, but with more research into these topics, we can better understand all the aspects leading to our current situation. Once we understand where we have been, we can better plan for where we are going and prevent future opioid epidemics.
The DEA's Automation of Reports and Consolidated Ordering System (ARCOS) is a comprehensive, publicly available database that can be considered the gold-standard2. It could (and should) be widely utilized by healthcare professionals and public health researchers.
Disclosures: BJP is part of an osteoarthritis research team supported by Pfizer. The other authors have no disclosures.
Citations
1. Eidbo SE, et al. Declines and regional variation in opioid distribution by US hospitals. Pain, in press, https://pubmed.ncbi.nlm.nih.gov/34510133/
2. Diversion Control Division, Drug Enforcement Administration. ARCOS retail summary reports. https://www.deadiversion.usdoj.gov/arcos/retail_drug_summary/index.html
The information on PainRelief.com is provided for educational purposes only, and is in no way intended to diagnose, cure, or treat any medical or other condition. Always seek the advice of your physician or other qualified health and ask your doctor any questions you may have regarding a medical condition. In addition to all other limitations and disclaimers in this agreement, service provider and its third party providers disclaim any liability or loss in connection with the content provided on this website.