PainRelief.com Interview with: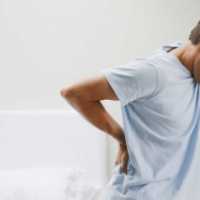 Dr. Frances MK Williams PhD
Department of Twin Research and Genetic Epidemiology
Division of Genetics & Molecular Medicine
Reader, King's College London
Honorary Consultant in Rheumatology
Guy's and St Thomas' NHS Foundation Trust
PainRelief.com: What is the background for this study?
Response: This study was led by scientists at King's College London and the University of Washington. It has identified three new genes associated with the development of chronic back pain.
The findings, which are published in PLOS Genetics, could pave the way for the creation of more effective treatments for the condition, the leading cause of disability worldwide.
Part funded by the European Union, the research project focussed on understanding why in most people an episode of back pain gets better, while in around 20% of people it can persist for many months – chronic back pain is defined as pain that persists for more than three months.
To better understand the origins of the chronic condition, researchers conducted a genome-wide association meta-analysis (GWAS) of chronic back pain studies comprising a total of 440,000 individuals. The average age of the study's participants ranged from 50 to 76 years, and the genders were approximately balanced. 
PainRelief.com: What are the main findings?
Response: The original expectation of the researchers was that the genes associated with chronic back pain would be linked in some way to the promotion of pain, perhaps reflecting a failure of the mechanisms which 'switch off' pain after a few weeks, in normal circumstances.
Significantly however, scientists identified three highly important associations of genes implicated in bone and intervertebral disc development – suggesting that the origins of chronic back pain are associated with degeneration of the spine.
The strongest genetic association with back pain identified by the researchers was provided by a variant in the SOX5 gene, which is involved in cartilage and bone development and also influences human height. Since human height is contributed to by spine bone and cartilage, this finding is highly plausible.
One of the other genes identified, GSDMC, has also been found by other researchers to be implicated in a form of back and leg pain called sciatica. This reflects pathology of the intervertebral disc, and again points to spine degeneration as causing back pain.
The third gene, DCC has been implicated in nerves growing in to the intervertebral disc. This is thought to be the mechanism by which discs, which normally don't contain nerves so can't perceive pain, can become painful.
PainRelief.com: What should readers take away from your report? 
Response: The lead researcher Professor Frances Williams from King's College London said: 'We have unearthed several important findings. First, the genetics of back pain is very complex; many thousands of genes are involved, with no single gene having a massive impact. But despite this complexity, we did identify three new genes which influence the development of long term back pain.
'These results are exciting because the genes tell us about disease pathways which are important to chronic back pain. We were expecting to find genes involved in pain pathways, such as in the peripheral nerves or brain, but to our surprise we identified those influencing the skeletal spine structures.
PainRelief.com: What recommendations do you have for future research as a result of this work?
Response: By investigating these genes further, we will potentially be able to target new pathways with treatments to retard the aging process in the spine.'
Citation:
Pradeep Suri, Melody R. Palmer, Yakov A. Tsepilov, Maxim B. Freidin, Cindy G. Boer, Michelle S. Yau, Daniel S. Evans, Andrea Gelemanovic, Traci M. Bartz, Maria Nethander, Liubov Arbeeva, Lennart Karssen, Tuhina Neogi, Archie Campbell, Dan Mellstrom, Claes Ohlsson, Lynn M. Marshall, Eric Orwoll, Andre Uitterlinden, Jerome I. Rotter, Gordan Lauc, Bruce M. Psaty, Magnus K. Karlsson, Nancy E. Lane, Gail P. Jarvik, Ozren Polasek, Marc Hochberg, Joanne M. Jordan, Joyce B. J. Van Meurs, Rebecca Jackson, Carrie M. Nielson, Braxton D. Mitchell, Blair H. Smith, Caroline Hayward, Nicholas L. Smith, Yurii S. Aulchenko, Frances M. K. Williams. Genome-wide meta-analysis of 158,000 individuals of European ancestry identifies three loci associated with chronic back pain. PLOS Genetics, 2018; 14 (9): e1007601 DOI: 10.1371/journal.pgen.1007601
[wysija_form id="3″]
[last-modified]
The information on PainRelief.com is provided for educational purposes only, and is in no way intended to diagnose, cure, or treat any medical or other condition. Always seek the advice of your physician or other qualified health and ask your doctor any questions you may have regarding a medical condition. In addition to all other limitations and disclaimers in this agreement, service provider and its third party providers disclaim any liability or loss in connection with the content provided on this website.