PainRelief.com Interview with:
Yuji Okuno, MD, PhD
Founder of the Okuno Clinic
Japan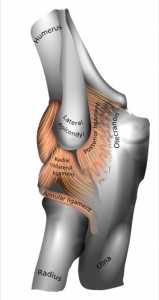 PainRelief.com: What is the background for this study?
Response: Tennis elbow, also known as lateral epicondylitis, is a painful condition that affects nearly 3 percent of U.S. adults and can result in chronic pain.

It stems from repetitive stress injuries to the tendons and muscles around the elbow that occur from common activities such as cooking, sports, and childcare. Many people end up going through invasive surgery to try and treat the pain, but it doesn't always help.

We wanted to test a current method used in cancer treatments, known as transcatheter arterial embolization (TAE), to see if it could be effective in treating the pain that stems from lateral epicondylitis.
Our team conducted a prospective study in 52 patients with tennis elbow who did not find relief from other forms of treatment. The patients received TAE between March 2013 and October 2016 and were followed for up to four years after the treatment.
PainRelief.com: What are the main findings?
Response: We found statistically significant reductions in pain-rating scores, using methods including the Quick Disability of the Arm, Shoulder and Hand scores; visual analog scale pain rating scores; Patient-rated Tennis Elbow Evaluation scores; and pain-free grip strength. Additionally, MRI images taken in 32 patients two years after undergoing TAE showed an improvement in tendinosis and tear scores.
No adverse events were observed and no patients experienced negative effects to the surrounding bones, cartilage or muscles.
PainRelief.com: What should readers take away from your report?
Response: Tennis elbow has been known to be difficult to treat, and most patients only had the option of physical therapy and invasive surgery to help their pain. However, we now know that TAE is a safe and effective treatment for tennis elbow. The treatment can be completed on an outpatient basis and requires only a needle hole to access the radial artery in the wrist under local anesthesia. A catheter is moved through the wrist to the elbow where the inflamed blood vessels are embolized, preventing excessive blood flow to the affected part of the elbow.
PainRelief.com: What recommendations do you have for future research as a result of this work?
Response: We are currently planning for a comparative study and testing this treatment for other chronic pain conditions, such as chronic shoulder pain and osteoarthritis.
I have no disclosures to report.
Citation:
Abstract 25: Midterm clinical outcomes after transcatheter arterial embolization for lateral epicondylitis resistance to conservative treatment. Y. Okuno; M. Shibuya. Okuno Clinic, Tokyo, Japan. SIR Annual Scientific Meeting, March 23-28, 2019. This abstract can be found at sirmeeting.org.
[wysija_form id="3″]
[last-modified]
The information on PainRelief.com is provided for educational purposes only, and is in no way intended to diagnose, cure, or treat any medical or other condition. Always seek the advice of your physician or other qualified health and ask your doctor any questions you may have regarding a medical condition. In addition to all other limitations and disclaimers in this agreement, service provider and its third party providers disclaim any liability or loss in connection with the content provided on this website.