MedicalResearch.com Interview with: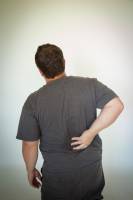 Michael Perloff, MD PhD
Assistant Professor of Neurology
Interventional Pain Management
Boston University School of Medicine
MedicalResearch.com: What is the background for this study? What are the main findings?
Response: Low back pain is very common. Patients with chronic low back pain that does not benefit from physical therapy, medications, or injections, often get spine surgery. If surgery fails to help (Failed back surgery syndrome-i.e. continued low back and leg pain after surgery), options for pain relief become more complex.
Typically, patients with failed low back surgery syndrome have tried complex procedures, repeat surgery or technology implants as their main options.
The SEAL procedure is a shortened, simple procedure (done in about 20 minutes) that can help as treatment for failed back surgery symptoms. In the published case series of 30 patients, some patients achieved very good, sustained, pain relief.
MedicalResearch.com: What should readers take away from your report?
Response: The SEAL procedure is a minimally invasive outpatient procedure that may help patients with continued low back and leg pain after spine surgery. A treatment that may garner pain relief with little risk, another option. The procedure may not help everyone with pain after spine surgery, but preliminary studies suggest pain benefit for many with "failed back surgery syndrome". 
MedicalResearch.com: What recommendations do you have for future research as a result of this work? 
Response: A large controlled clinically trial comparing the SEAL procedure to conventional injections is planned for next year.
No disclosures.
Citation:
Michael D Perloff, Jonathan Dashkoff, Guannan Ge. The Simplified Epiduralysis After Laminectomy/Fusion (SEAL) Procedure for Postsurgical Radicular Low Back Pain. Pain Medicine, 2018; DOI: 10.1093/pm/pny195
[wysija_form id="3″]
[last-modified] 
The information on MedicalResearch.com is provided for educational purposes only, and is in no way intended to diagnose, cure, or treat any medical or other condition. Always seek the advice of your physician or other qualified health and ask your doctor any questions you may have regarding a medical condition. In addition to all other limitations and disclaimers in this agreement, service provider and its third party providers disclaim any liability or loss in connection with the content provided on this website.