PainRelief.com Interview with:
Dr. Mohamad Bydon MD
Professor of Neurosurgery
Mayo Clinic
Rochester, Minnesota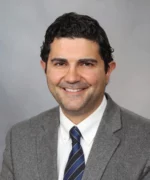 PainRelief.com: What is the background for this study?
Response: Patients presenting with back or leg pain due to degenerative lumbar spine disease often undergo spinal fusion to mitigate the symptoms and halt the progression of the disease.
PainRelief.com: What are the main findings?
Minimally invasive surgery (MIS) in the lumbar spine encompasses a variety of techniques, such as percutaneous screw placement and operation via tubular retractors, and aims to limit the distortion of patients' anatomy as much as possible. Eventually, compared to open fusion, MIS fusion is associated with decreased muscle destruction, incision size, and time-to-mobilization.
Response: This study found that patients undergoing minimally invasive surgery fusion were more often satisfied with their surgery and reported lower pain and higher functionality.
Also, MIS fusion was associated with a shorter in-hospital stay and lower risk of reoperation.
PainRelief.com: What should readers take away from your report?
Response: Minimally invasive spinal surgery improves patients' perioperative experience, decreases postoperative pain, and increases functionality.
PainRelief.com: What recommendations do you have for future research as a result of this work?
Response: The selection between minimally invasive surgery and open surgery is currently performed by the surgeon based on their experience, heuristics, and training. Future studies should be oriented towards determining the patient population that would benefit more from MIS surgery, standardizing treatment selection. This way, the number of patients undergoing MIS surgery could be maximized safely, leading to optimal care delivery.
PainRelief.com: Is there anything else you would like to add?
Response: This study emerged through the collaborative effort of multiple hospitals throughout the United States. We would like to thank all contributors for their valuable services.
Citation:
Mooney, J., Michalopoulos, G. D., Alvi, M. A., Zeitouni, D., Chan, A. K., Mummaneni, P. V., Bisson, E. F., Sherrod, B. A., Haid, R. W., Knightly, J. J., Devin, C. J., Pennicooke, B., Asher, A. L., & Bydon, M. (2021). Minimally invasive versus open lumbar spinal fusion: a matched study investigating patient-reported and surgical outcomes, Journal of Neurosurgery: Spine (published online ahead of print 2021). Retrieved Dec 16, 2021, from https://thejns.org/spine/view/journals/j-neurosurg-spine/aop/article-10.3171-2021.10.SPINE211128/article-10.3171-2021.10.SPINE211128.xml
[
The information on PainRelief.com is provided for educational purposes only, and is in no way intended to diagnose, cure, or treat any medical or other condition. Always seek the advice of your physician or other qualified health and ask your doctor any questions you may have regarding a medical condition. In addition to all other limitations and disclaimers in this agreement, service provider and its third party providers disclaim any liability or loss in connection with the content provided on this website.
Last Updated on December 16, 2021 by PainRelief.com