MedicalResearch.com Interview with:
Jun J. Mao, MD, MSCE
Integrative Medicine Service, Department of Medicine
Memorial Sloan Kettering Cancer Center
New York, New York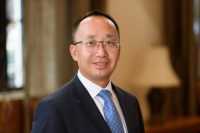 MedicalResearch.com: What is the background for this study?
Response: The opioid crisis has fueled growing interest in non-pharmacological pain management options. Last year, Medicare approved insurance coverage of acupuncture for chronic low back pain. Despite this progress, many cancer survivors continue to struggle with chronic pain. 
MedicalResearch.com: What are the main findings?
Response: In our study, we found that both electroacupuncture and auricular acupuncture were more effective than usual care at reducing chronic musculoskeletal pain in cancer survivors. However, auricular acupuncture was not as effective as electroacupuncture and was associated with more side effects, such as ear pain.
MedicalResearch.com: What should readers take away from your report?
Response: Electroacupuncture and auricular acupuncture represent effective treatment options for chronic musculoskeletal pain in cancer survivors.
MedicalResearch.com: What recommendations do you have for future research as a result of this work?
Response: Dissemination and implementation of acupuncture are important areas for future research. More work is needed to determine how to optimally integrate these two acupuncture techniques into comprehensive pain management in oncology settings. For example, auricular acupuncture may not be as effective as electroacupuncture, but it is still more effective than usual care, and it is also potentially easier to learn and administer than electroacupuncture. We should investigate ways to train the medical workforce to provide auricular acupuncture safely and effectively, particularly in areas where electroacupuncture is not widely available. This type of research is critical to translate our findings into better pain management for cancer survivors.
Citation: Mao JJ, Liou KT, Baser RE, et al. Effectiveness of Electroacupuncture or Auricular Acupuncture vs Usual Care for Chronic Musculoskeletal Pain Among Cancer Survivors: The PEACE Randomized Clinical Trial. JAMA Oncol. Published online March 18, 2021. doi:10.1001/jamaoncol.2021.0310
The information on MedicalResearch.com is provided for educational purposes only, and is in no way intended to diagnose, cure, endorse or treat any medical or other condition. Always seek the advice of your physician or other qualified health and ask your doctor any questions you may have regarding a medical condition. In addition to all other limitations and disclaimers in this agreement, service provider and its third party providers disclaim any liability or loss in connection with the content provided on this website.