PainRelief.com Interview with:
Dr. Perez Cajaraville MD EDPM
Clinical Director Pain Unit
HM Hospitales
Madrid. Spain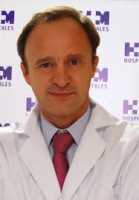 PainRelief.com: What is the background for this study?
Response: The addition of L-arginine to the molecule of ibuprofen, a non-steroidal anti-inflammatory drug (NSAID), in the salt form of ibuprofen arginate has the rationale to enhance the absorption rate of the active S-(+) enantiomer of ibuprofen to achieve a rapid onset analgesic action. Despite availability of ibuprofen arginate in the market for many years, a comprehensive review of the evidence of the analgesic efficacy, tolerability and safety in different pain models has not been previously reported.
PainRelief.com: What are the main findings?
Response: Salification of ibuprofen with arginine provides a protective action against gastric mucosal damage. Ibuprofen arginate provides a rapid and effective analgesic effect as peak plasma concentrations are reached at 15 to 30 min after administration as compared with 1.5-3 hours for standard ibuprofen. In different clinical scenarios characterized by acute pain, such as dental pain, dysmenorrhea, headache/migraine, and postoperative pain after major surgery, ibuprofen arginate has been shown to be very effective and well tolerated.
PainRelief.com: What should readers take away from your report?
Response: Clinicians should be aware that ibuprofen arginate is a very useful analgesic compound when rapid onset pain relief is required in the management of disorders, in which acute pain is the main clinical symptom.
PainRelief.com: What recommendations do you have for future research as a result of this work?
Response: It would be interesting to perform further meta-analysis to compare different NSAID and non-NSAID analgesic options in terms of fast analgesic effects in acute pain
No applicable disclosures
Citation:
Cajaraville JP. Ibuprofen Arginate for Rapid-Onset Pain Relief in Daily Practice: A Review of Its Use in Different Pain Conditions. J Pain Res. 2021 Jan 25;14:117-126. doi: 10.2147/JPR.S280571. PMID: 33531831; PMCID: PMC7846824.
The information on PainRelief.com is provided for educational purposes only, and is in no way intended to diagnose, cure, endorse or treat any medical or other condition. Always seek the advice of your physician or other qualified health and ask your doctor any questions you may have regarding a medical condition. In addition to all other limitations and disclaimers in this agreement, service provider and its third party providers disclaim any liability or loss in connection with the content provided on this website.