PainRelief.com Interview with:
Hernan Bazan, MD DFSVS FACS
CEO & Co-founder, South Rampart Pharma, LLC and
Professor of Surgery, Section of Vascular/Endovascular Surgery
Program Director, Vascular Surgery Fellowship
Ochsner Clinic 
New Orleans, LA  70121
Thank you for your kind invitation and opportunity to commend on our paper in press in the European Journal of Medicinal Chemistry entitled 'A novel pipeline of 2-(benzenesulfonamide)-N-(4-hydroxyphenyl) acetamide analgesics that lack hepatotoxicity and retain antipyresis.'  This is the culmination of a multi-disciplinary effort involving investigators from the United States in Spain in search for a solution to the problem of treating pain more safely.

https://www.sciencedirect.com/science/article/pii/S0223523420305729?via%3Dihub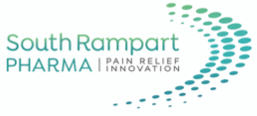 As a disclosure, I am the CEO and co-founder of South Rampart Pharma, LLC (https://southrampartpharma.com), which is developing its lead asset to advance the treatment of pain by developing new, small-molecule solutions that have the potential to overcome many risks associated with current pain medicines.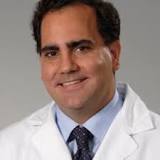 PainRelief.com: What is the background for this study?
Response: The work in this paper is in large part due to several active and productive collaborations to address a simple problem: introduce a safer way to treat pain. That is, without the risk of opioids (abuse potential), acetaminophen/paracetamol (liver toxicity) and non-steroidal anti-inflammatory drugs (NSAIDs)/ibuprofen (kidney toxicity).
In 2018, over two million U.S. adults had opioid use disorder (OUD), which includes the misuse of prescription pain relievers and use of heroin (1).  Prescription pain reliever misuse was the second most common form of illicit drug use in the U.S. in 2018, after marijuana use, with 3.6% of the population misusing pain relievers(1).  In the U.S., pain affects more adults than diabetes and cancer combined with an estimated cost to the healthcare system of $635 billion/year(2).  Current pain medications are either addictive (e.g., opioids), hepatotoxic (e.g., ApAP) or nephrotoxic (e.g., NSAIDs). For example,  Paracetamol (or acetaminophen) (ApAP) is effective for acute pain but its hepatotoxicity risk limits its use to a short time period (usually < 3 days) and also its use in patients with compromised liver function or the elderly.   The prevalence of OUD, including high rates of overdose in the U.S., OUD costs and toxicity profiles of currently available medications underscore the need for a safer, effective non-opioid pain medication.
ApAP-hepatotoxicity remains the most common cause of acute liver failure in the U.S. with inadvertent hepatotoxicity the etiology in half of all cases(3).  Our aim was to overcome this toxicity by creating ApAP analogs linking a saccharin moiety to the methyl group of ApAP. To this, an efficient synthesis was possible through opening the ring of the heterocyclic moiety to supply the corresponding N-substituted amides(4, 5).  Within this molecule, the benzenesulfonamide fragment makes the molecule stable and moderately lipophilic and the R1 and R2 groups can be varied to effect lipophilicity (Fig).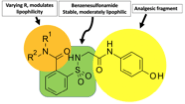 This paper describes the rationale for this synthesis, the library of compounds used to select the lead compounds to develop, the consistent lack of hepatotoxicity cell lines and small animals, and its ability to reduce pain and fever in small animal studies. Moreover, we explain the mechanisms of action for the lack of hepatotoxicity.
Last Updated on July 24, 2020 by PainRelief.com