MedicalResearch.com Interview with:
Rubén Nieto
eHealth Lab Research Group,
Faculty of Health Sciences
Universitat Oberta de Catalunya
Barcelona, Spain
MedicalResearch.com: What is the background for this study?
Response: The COVID-19 pandemic is one of the most serious global challenges to have faced healthcare and society in the last century, taking a drastic toll on the world's population. It has caused deaths, worsened people's quality of life and upended the economy, among other consequences. Despite this, there is little research on how people are coping with the pandemic. In our opinion, it is of particular interest to study people with chronic pain, since COVID-19 and the circumstances surrounding it can have a greater impact on them.
MedicalResearch.com: What are the main findings?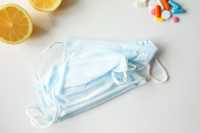 Response: We conducted a study on 502 people living with chronic pain, 88% of whom were women aged between 30 and 59 years. Our participants answered a survey about the impact of the pandemic, potential related factors (pain triggers) and coping strategies. Around 70% reported worsening in each of the assessed domains (pain intensity, frequency, interference with activities, distress caused by pain, sleep and physical activity). We found that contextual and personal variables such as job insecurity, worries about the future, the number of people living in the same dwelling, having someone close die of COVID-19, and fear of becoming infected with the virus may be related with such worsening in pain related outcomes.
The study also shows that the pandemic has slightly changed pain trigger patterns. While stress and weather changes were the most frequently mentioned triggers before the pandemic, during lockdown a large number of participants mentioned worries about the future, sleep problems, insecurity, negative thoughts, sadness, loneliness, insufficient physical activity and fear of contagion as triggers.
Finally, more than half (54.5%) reported that they had changed how they coped with pain. On the downside, more than half the patients used rest to manage their pain and a similar percentage increased their medicine intake. Both strategies could have counterproductive effects. On the upside, 48.2% included stretching exercises as a coping strategy.
MedicalResearch.com: What should readers take away from your report?
Response: People with chronic pain are suffering more than the healthy population during the pandemic. So, efforts are needed to help them to continue receiving the care they need, as well as to design strategies that promote healthy coping strategies. In the case of chronic pain, as with other medical conditions, e-health has enormous potential to help people. The current crisis also underscores the existing need to allocate more financial and human resources to the study and management of pain, and to address the problem from a biopsychosocial point of view.
MedicalResearch.com: What recommendations do you have for future research as a result of this work?
Response: Our results have several weaknesses that open new paths for research. First, they come from a cross-sectional study that did not allow us to establish causal relations. Second, they are based on a survey that is likely missing key information on the point of view of people with chronic pain. Third, they are from a specific Spanish sample that may not be representative of all the people in Spain or people with pain from other countries.
Therefore, in our opinion, future studies should ideally feature a longitudinal design, garner international cooperation and give people with chronic pain the opportunity to speak their mind.
MedicalResearch.com: Is there anything else you would like to add?
Response: This project was conducted without specific funding and thanks to the disinterested collaboration of researchers from different Spanish institutions (Universitat Oberta de Catalunya, Universitat Rovira i Virgili, Universidad Europea de Madrid, Institut de Recerca de Sant Joan de Déu).
Citation:
Nieto R, Pardo R, Sora B, Feliu-Soler A, Luciano JV. Impact of COVID-19 Lockdown Measures on Spanish People with Chronic Pain: An Online Study Survey. J Clin Med. 2020 Nov 5;9(11):3558. doi: 10.3390/jcm9113558. PMID: 33167322; PMCID: PMC7694344.
The information on MedicalResearch.com is provided for educational purposes only, and is in no way intended to diagnose, cure, or treat any medical or other condition. Always seek the advice of your physician or other qualified health and ask your doctor any questions you may have regarding a medical condition. In addition to all other limitations and disclaimers in this agreement, service provider and its third party providers disclaim any liability or loss in connection with the content provided on this website.