PainRelief.com Interview with:
Anna Woodbury, MD, C.Ac
Associate Professor | Anesthesiology
Associate Program Director | Emory Pain Fellowship
Emory University School of Medicine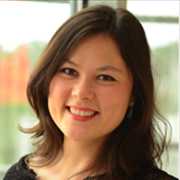 PainRelief.com: What is the background for this study? What are the main findings?
Response: I have long been interested in non-pharmacologic and minimally invasive therapies for my pain patients. Unfortunately, there are not a lot of non-pharmacologic options available, particularly for those suffering from fibromyalgia, a poorly understood condition that leads to widespread pain among a constellation of disturbing symptoms. I observed that many fibromyalgia patients are stigmatized and often dismissed without suitable treatments, and I wanted to find a way to better help them.
Working in the VA, I learned that gulf war syndrome and fibromyalgia seemed to overlap in terms of their clinical manifestations, and I was presented with an interesting option for pain treatment – the "Military Field Stimulator," a stimulator that goes on the ear to treat pain using percutaneous electrical nerve field stimulation (PENFS). I tried it on a few of my difficult to treat pain patients with positive results. However, the stimulator had not yet been rigorously tested in a clinical trial. We therefore conducted a small trial to examine the clinical effects of the ear stimulator in veterans with fibromyalgia and examined brain changes that may result from use of the stimulator us a special kind of MRI known as resting state functional connectivity MRI.
All veterans in the study received standard therapy, including medication management, physical therapy, etc., but some were randomized to standard therapy alone, while others received standard therapy in addition to PENFS.  We found that there was pain relief in both groups immediately following a 4 week treatment period, but the PENFS group seemed to have longer term pain relief (12 weeks), and the changes in the brain differed between the groups.  Further, pain interference measures (the level pain interferes with activity, mood, stress, and sleep) were significantly improved in the PENFS group at some of the timepoints.