PainRelief.com: What should readers take away from your report?
Response: MORE combines meditation, cognitive-behavioral therapy, and principles from positive psychology into sequenced training in mindfulness, savoring, and reappraisal skills to restore healthy function of the brain's reward system. Mindfulness is first taught as a means of strengthening self-control and producing relief from physical and emotional pain. Reappraisal is then taught as a means of reframing the meaning of stressful life events to see those events as sources of potential growth and meaning in the face of adversity. Finally, MORE teaches savoring pleasant events as a way to deeply appreciate and absorb the positive emotions and pleasurable sensations that flow from them.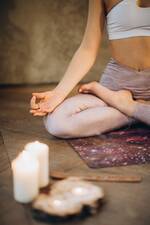 PainRelief.com: What recommendations do you have for future research as a result of this work?
Response: Implementation clinical trials are needed to determine the extent to which MORE can be effectively implemented at scale in the context of standard medical care.
Integrated health care teams comprised of social workers, psychologists, nurses, and/or physicians could potentially deliver MORE in primary care settings as an insurance reimbursable service.
PainRelief.com: Is there anything else you would like to add?
Response: To date, I've trained multiple healthcare systems and more than 450 social workers, psychologists, nurses, and physicians to use MORE to help their patients. Given MORE's clear efficacy, it's now time to disseminate MORE throughout the country to help stem the tide of the opioid crisis.
Citation:
Garland EL, Hanley AW, Nakamura Y, et al. Mindfulness-Oriented Recovery Enhancement vs Supportive Group Therapy for Co-occurring Opioid Misuse and Chronic Pain in Primary Care: A Randomized Clinical Trial. JAMA Intern Med. Published online February 28, 2022. doi:10.1001/jamainternmed.2022.0033
https://jamanetwork.com/journals/jamainternalmedicine/fullarticle/2789279
The information on PainRelief.com is provided for educational purposes only, and is in no way intended to diagnose, cure, or treat any medical or other condition. Always seek the advice of your physician or other qualified health and ask your doctor any questions you may have regarding a medical condition. In addition to all other limitations and disclaimers in this agreement, service provider and its third party providers disclaim any liability or loss in connection with the content provided on this website.