PainRelief.com Interview with:
Jason Ching MD
Department of Neurology
George Washington University School of Medicine
Washington, DC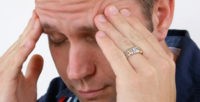 PainRelief.com: What is the background for this study? What are the main findings?
Response: The clinical course of chronic migraine patients who respond positively to serial botulinum toxin A (BotoxA) injection therapy and eventually discontinue treatment has not been well-studied. Optimizing the duration of treatment would be beneficial from both a cost and safety perspective.

In our study, we found that over 80% of our chronic migraine patients who achieved our stipulated stopping rule experienced no clinical worsening or associated need to resume prophylactic therapy for at least 6 months following discontinuation of BotoxA.

A greater number of BotoxA treatments required to achieve the stopping rule and the presence of baseline chronic daily headaches for over 6 months duration were factors correlated with clinical deterioration.
PainRelief.com: What should readers take away from your report?
Response: We want our readers to consider that for chronic migraine patients who experience an especially positive response to serial BotoxA injection therapy, clinical improvement may be sustained for a period of at least 6 months following discontinuation of prophylactic therapy. Other patients on the other hand, such as those who at baseline reported chronic daily headaches of ≥6 months duration and/or those less responsive to initial BotoxA treatments, may require ongoing prophylactic therapy to maintain a positive clinical response.
PainRelief.com: What recommendations do you have for future research as a result of this work?
Response: We recommend that future studies on BotoxA therapy should focus not only on the efficacy of treatment, but also on long-term prognosis after therapy has been discontinued. While this may require longer periods of follow-up, more data is needed to confirm the existence of a "carry-over effect" after discontinuation of BotoxA and, if that effect is present, to identify chronic migraine subpopulations likely to experience a sustained reduction in headache burden. Doing so may help to guide clinicians in both risk stratification and clinical management for patients receiving prophylactic BotoxA therapy.
We report no disclosures or conflict of interests.
Citation:
Headache. 2019 Sep 9. doi: 10.1111/head.13630. [Epub ahead of print]
Prognosis Following Discontinuation of OnabotulinumA Therapy in "Super-responding" Chronic Migraine Patients.
Ching J, Tinsley A, Rothrock J.
Department of Neurology, George Washington University School of Medicine, Washington, DC, USA.
[wysija_form id="3″]
[last-modified]
The information on PainRelief.com is provided for educational purposes only, and is in no way intended to diagnose, cure, or treat any medical or other condition. Always seek the advice of your physician or other qualified health and ask your doctor any questions you may have regarding a medical condition. In addition to all other limitations and disclaimers in this agreement, service provider and its third party providers disclaim any liability or loss in connection with the content provided on this website.