PainRelief.com Interview with: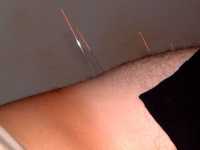 Jai N. Patel, PharmD, BCOP
Chief, Pharmacology Research
Associate Professor, Division of Hematology/Oncology
Department of Cancer Pharmacology
Levine Cancer Institute
Charlotte, NC 28204 
PainRelief.com: What is the background for this study? What are the main findings?
Response: Pain is one of the most prevalent and burdensome symptoms affecting patients with cancer. Cancer-related pain is most commonly treated with opioid analgesics; however, nearly two-thirds of patients have inadequate pain relief and/or experience opioid-related side effects.
Furthermore, the fear of opioid abuse/addiction and toxicity deters some from prescribing opioids and reduces patient compliance. Thus, nonpharmacologic interventions such as acupuncture may be safer approaches to cancer-related pain.  Randomized controlled trials suggest acupuncture reduces chronic neuropathic and postoperative pain in patients with cancer. It is unknown whether any patient characteristics predict post-acupuncture pain response.
We assessed acupuncture's effectiveness for cancer-related pain, identified patient characteristics associated with pain response, and determined its effect on other concurrent cancer-related symptoms in palliative medicine outpatients. We identified significant benefits in pain scores immediately after the first treatment and across multiple treatments. Significant pain reduction was associated with higher baseline pain and more advanced disease stage.
We also identified significant changes in anxiety, depression, drowsiness, dyspnea, fatigue, nausea and well-being. Improvements in fatigue and depression also correlated with significant pain reduction after acupuncture. 
PainRelief.com: What should readers take away from your report?
Response: Acupuncture resulted in significant improvements in pain and many other cancer-related symptoms.  Patient-specific characteristics such as baseline pain and disease stage predicted the magnitude of benefit after acupuncture.  Clinicians should consider acupuncture as an effective non-pharmacologic intervention for cancer pain management. 
PainRelief.com: What recommendations do you have for future research as a result of this work? 
Response: Future studies with comprehensive patient-reported outcomes should evaluate pain characteristics likely to benefit from acupuncture, durability, and any opioid sparing effect.
No disclosures
Citation:
Am J Hosp Palliat Care. 2018 Oct 4:1049909118804464. doi: 10.1177/1049909118804464. [Epub ahead of print]
Acupuncture for Cancer Pain and Symptom Management in a Palliative Medicine Clinic.
Miller KR1, Patel JN1,2, Symanowski JT3, Edelen CA2, Walsh D2.
[wysija_form id="3″]
[last-modified] 
The information on PainRelief.com is provided for educational purposes only, and is in no way intended to diagnose, cure, or treat any medical or other condition. Always seek the advice of your physician or other qualified health and ask your doctor any questions you may have regarding a medical condition. In addition to all other limitations and disclaimers in this agreement, service provider and its third party providers disclaim any liability or loss in connection with the content provided on this website.