PainRelief.com Interview with:
Dr Benny Antony MD,PhD Senior Research Fellow
National Health and Medical Research Council of Australia Fellow
Menzies Institute for Medical Research
Unit Coordinator, Lecturer & Examiner, College of Health & Medicine
University of Tasmania
Associate Editor, International Journal of Rheumatic Diseases https://onlinelibrary.wiley.com/journal/1756185x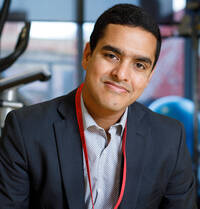 PainRelief.com: What is the background for this study? What are the main findings?
Response: Osteoarthritis is the most common joint disorder in adults around the world, with more than 300 million people suffering from the disease. Considering the increasing prevalence of the disease and lack of effective treatment strategies, there is an urgent need for effective and safe treatment. Curcuma longa, commonly known as Turmeric, is a popular anti-inflammatory medication. Previous studies in osteoarthritis have shown that various formulations of turmeric extracts are effective and safe for the treatment of osteoarthritis.

We decided to select an inflammatory-phenotype of knee osteoarthritis patients who might benefit from a safe, natural anti-inflammatory therapy and randomised them to placebo and treatment groups.

Over, 12 weeks we found that the Turmeric extract group had a greater reduction in knee pain compared to the placebo group. We also looked at the effect of the treatment on knee structural abnormalities, but we did not find any significant difference between the treatment and placebo groups.